The Real Estate Market Of Sohna-Gurugram Is Touching Sky Due To DMIC Development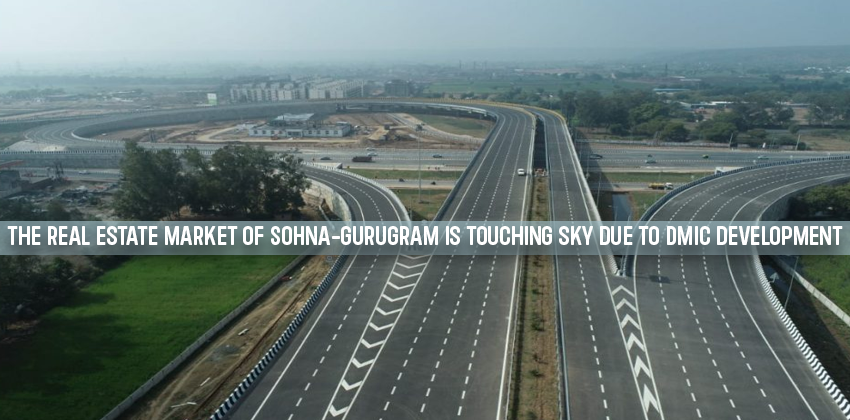 Sohna is developing rapidly located in the southern part of the Gurugram district in the Indian State of Haryana. This is known for its scenic beauty, close proximity to Aravalli Hills, and fastest-growing real estate market. The opening of the Delhi-Mumbai Expressway is one of the largest infrastructure projects in India. 
The new expressway is going to span 1,300 km and is going to offer seamless connectivity between Delhi and Mumbai. It will reduce travel time between the two cities to under 12 hours. It will lead to increased investor interest in the Sohna region. It is located along the expressway and it is also expected to benefit from improved connectivity. 
Now, the real estate developer in Sohna has capitalized on this opportunity with tons of luxury housing projects in the pipeline. These projects are going to focus on offering spacious and independent homes while catering to the needs of high-net-worth individuals and affluent families. 
Founder and Chairman of Signature Global (India), Pradeep Aggarwal commented that the development of the eight-lane Delhi-Mumbai Expressway augurs more growth and prosperity for Sohna and New Gurugram. NHAI is a modern state-of-art expressway that is going to provide direct connectivity between Delhi and Mumbai. The project is going to offer a world of opportunities for tons of people of Gurgaon and Sohna, who will also gain new logistical connectivity to the entire Delhi NCR region. 
The launch of the Delhi-Mumbai Expressway is going to have cascading effects on the property price in Sohna and New Gurugram. Signature Global has a cascading effect on property prices in Sohna and New Gurugram. The demand in both residential and commercial segments is expected to increase in these regions. The Signature Global properties are developed near the Delhi-Mumbai Expressway. The social infrastructure around the expressway will have a multiplicative effect in bolstering the Indian economic growth story. 
The Delhi-Mumbai Expressway comes with a demand for luxury independent floors in Sohna. This comes with improved connectivity, and Sohna is emerging as a preferred destination for luxury living. The developers are offering world-class amenities and unique lifestyle experiences that would cater to the demand of discerning buyers. 
Jatin Lohia, Director, LID commented Sohna is at the boom in both residential and commercial growth. This new expressway is going to unlock the region's maximum potential, causing a surge in real estate development. This will also establish Sohna as a multi-utility residential corridor, providing a solid blueprint for developing townships, independent floors, and business hubs. This will ease the congestion and offer easy connectivity with nearby states, the region is going to witness a surge in housing demand and price appreciation of existing and upcoming residential projects. 
The Delhi-Mumbai Expressway on a 1,390 km national highway is going to reduce travel time from 18-20 hours to approximately 12 hours between Delhi and Mumbai. In fact, the 246-kilometer route is also going to reduce the existing five-hour journeys from the capital city to Jaipur in just three hours. In fact, the Delhi-Dausa-Lalsot stretch's construction costs more than rs 12,150 crore. The Gurugram Expressway and Sohna and the Dausa end, the new highway is going to enhance connectivity between Delhi, Jaipur, and Mumbai, decreasing the travel times and enhancing Gurugram's attractiveness as a location for commercial and residential development. 
The region's proximity comes with major office hubs and other business centers like Golf Course Extension Road and the Southern Peripheral Road as well as Indira Gandhi International Airport. The Gurugram-Sohna Road (NH 248A) has heightened the migration of the upper middle and upper-income class to Sohna. This game-changing connectivity, and infrastructure development such as NH-48, KMP, and others will provide a significant boost to the economy and bring about a transformational shift in Sohna's socio-economic landscape. 
Along with other game-changing connectivity, infrastructure developments like NH-48, KMP, and others are going to provide a major boost to the economy and give you transformational gifts in Sohna's socio-economic landscape. 
Overall, the real estate market in Sohna is currently witnessing new trends while catering to the growing needs and preferences of homebuyers. It comes with a focus on luxury independent floors, co-living spaces, sustainability, and spacious homes. Currently, builders and developers are creating new innovative projects that meet the diverse needs of the market.