Top 10 Low Rise Apartments in Gurgaon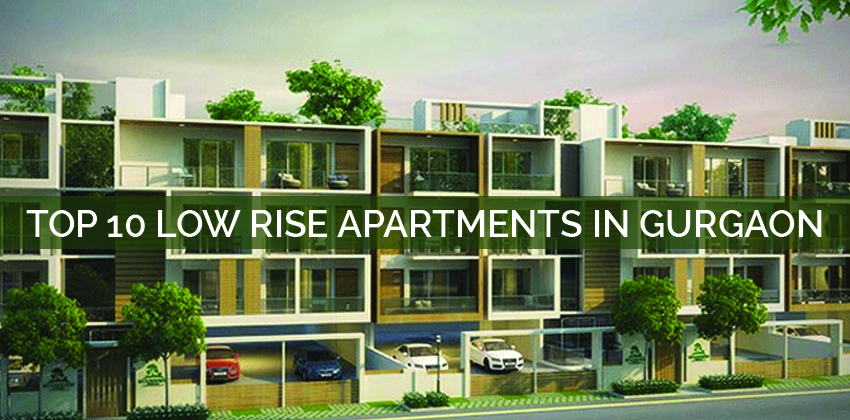 Gurgaon is an ideal place for living, enjoying leisure time, and working. Here you can live best of your life as the city boasts of rock solid social and civic amenities. As far as spending leisure time is concerned, and then you are left with ample options of enjoying with your loved ones. You will find best in class fine dining restaurants, pubs, bars, amusement parks, world class shopping malls, etc. For working, Gurgaon has World's leading MNCs which makes it the biggest employment hub of India. So, what more can be expected from a city? Nothing at all! Gurgaon is a perfect place to buy your home. If you wish to lead your entire life in low rise apartments, then you must explore Gurgaon's top 10 low rise residential apartments that are mentioned below.
1. Smart World Orchard
Smart World Orchard offers ultra luxurious 2 and 3BHK smart card access homes to the buyers in sector 61, Gurgaon. The size of these low rise independent floors varies from 120 sq. Yds to 170 sq. Yds. The project is sprawled over 25 acres of prime land and houses 800 units in it. The developer has made lavish club house of 20,000 Sq. Ft wherein you can enjoy festivities and other occasions together with your loved ones. The residential project has provision for electrical vehicle charging point and i car parking per family facility to ensure convenience of the buyers.
2. ROF Insignia Park
ROF Insignia Park presents once in a life time opportunity to lead resort like lifestyle in budget as it offers low rise luxury floors in Gurgaon. You can find 3bhk apartments of size 1225 sq ft that are crafted to suit modern needs of young India. This project is located in sector 93, Gurgaon where already 3000+ families are living. The project is fully loaded with every possible amenity like vehike parking space for each level,  club house, Yoga/ meditation centre, multipurpose lawn, kids play area, retail shops, clinical shops, parlours, Anganwadi facility, fire fighting and earth quake resistant seismic tremor resistance structure, round the clock water and power supply facility, lifts, wide paved roads, dense green landscapes, etc.
3.M3M Solitude
M3M Solitude City of Dreams offers heavenly living experience as it brings paradise on earth by offering luxury low rise builder floors in sector 89, Gurgaon. These luxury floors are built with stilt+4 floor level construction and offers 3 and 4bhk luxury apartments of size 1424 sq. Ft. Some of the striking features of this project include landscaped oxygen terrace, double heighted air conditioned lift lobby, high speed elevators, electric vehicle charging point, clubhouse, lounge, landscaped park, pool side deck, roof top jogging track, swimming pool, smart card access,5 tier security system, space for home office, library, gym, bar/lounge and more.
4.Smart World Gems
Smart World Gems offers 2.5 BHK and 3.5 BHK fully furnished luxury homes with zero loading capacity in sector 89 Gurgaon. These low rise apartments are spread over 60 acres of land and are built on stilt + 4 level constructions. The catch point of this project is its1000 acres lush green open space. It gives view of Balinese scenery with open lawns and tree-lined street.  If you talk about the amenities, then you will get access to Multipurpose hall, Lounge, Art Wall, Kids Play Area, Meetings Room, Outdoor Pool Deck, Kids Plunge Pool, Outdoor Swimming Pool, Gymnasium, Indoor Games Zone, Board Games, Card Games Section, Squash Court, Badminton Court, Cricket Pitch, Basketball Court, Tennis Court, Experience Centre, Café, Music Room, Reserved Car Parking, Visitors Parking, 24×7 Power backup, 24X7 Security.
5. Signature Global City 92
Signature Global City 92 is a newly launched low rise independent luxury floors project by iconic Signature Global Group. The project in strategically located in sector 92 and offers 2 and 3BHK luxury floors of size ranging from 959 sq. ft to 1091 sq. ft( Carpet area). This affordable housing project falls under DDJAY and is sprawled over 10.3 acres. These fully air conditioned apartments are built on basement+ stilt + 4 floors + terrace construction. Laced with top of the line specifications and modern amenities to ensure you enjoy modern living.
Some of the amenities 24×7 Security with CCTV surveillance, smoke detector, fire alarm, advanced fire fighting equipments, sprinklers, 24×7 power backup and water supply, club house, reflexology park, yoga & aerobics center, waiting lounge, amphitheatre, reserved car parking space, visitor parking space, gymnasium, swimming pool, toddler pool, sundeck, Jacuzzi, kids play area, jogging track, multipurpose room, maintenance staff and much more.
6.Signature Global City 81
Signature Global City 81 is yet another iconic low rise independent floor project which is sprawled over 11.97acres of land. The developer is offering 2 and 3BHK luxury independent floors with terrace garden facility. The project is designed by Padma Bhushan Hafeez contractor which clearly means you get to live in lavishly designed modern age homes. These low rise apartments have planned cross ventilation and are built using top quality fixtures and fittings. Though the project falls under DDJAY, you won't even realise that you're living in affordable housing project.
Reason being, you will be pampered with ample of luxurious amenities including club house, amphitheatre, gymnasium, landscape garden,flower garden, swimming pool, jogging track, Jacuzzi, yoga/meditation space, kid's play area, Wi-Fi connectivity, entrance lobby, sewage treatment plant, 24×7 security with CCTV surveillance, 24×7 power backup and water supply, reserved car parking, internal street lights, paved compound, intercom, fire fighting system.
7.DLF Alameda Floors
DLF Alameda Floors offers ideal combination of residential plots, villas, and low rise floors in sector 73, Gurgaon. These luxury floors come with construction of stilt + 4 floors wherein the floor size ranges from 3750 sq.ft to 4700sq. ft. There is a provision for separate staff room and store room in the basement for each floor. The developer has provided dedicated car parking at stilt level for each floor. Here you will also get elevator with a capacity of 6 floors for easy travel within the premises. These modern day homes are built with all the hi-tech modern fittings including modular kitchen with hob, chimney, oven, microwave, dishwasher, refrigerator and washing machine. Laminated wooden flooring and modular wardrobes make these floors perfect for leading modern life.
8.Birla Estate Navya
With the launch of Birla Navya, Birla Group has finally entered in the realty market of Delhi NCR. This luxurious township project is located in the prime location of Gurgaon, sector 63 A, near Golf Course Extn Road. These premium residencies are sprawled over 47 acres of land and are divided into 5 separate pockets. The first phase has two projects Birla Navya Drisha and Birla Navya Amoda. These are two separated gated communities that function separately. Birla Estate Navya is one of the first green rated townships of Gurgaon. Spread across 73 acres, the luxurious project offers 2, 3, and 4BHK low rise mid floors in sector 63 A, Gurgaon. This project has obtained IGBC gold pre certification. You will find the entire top rated high class A to Z amenities right from lavish swimming pool to stunningly crafted swimming pool, and much more.
9.Signature Global City 3 7 D
Signature Global City 37 D project is spread on an area of 23 acres of land and offers 200 plots of 2BHK and 3BHK sizes. These low rise independent floors have stilt + 4 floors constructed with all upscale modern amenities. It is the first EDGE certified Green Building project. Here you will find modular kitchen, green space on terrace, private service area, air conditioned home office with waiting lobby, fully air conditioned premium floor etc. The club house is sprawled over 474 SqMtr and first phase development will have 624 units in it.
 These affordable luxury floors offer some unique captivating amenities like reflexology path, trellis seating, pool deck with cabana, Jacuzzi, kid's pool, adult's swimming pool, toddler's play area, forest camping area, campfire, senior citizen area, jogging track, box cricket, skating rink etc.
10.DLF Garden City Floors
As the name suggests DLF Garden City floors is DLF's residential premium township which is designed by Padma Bhushan Awardee Hafeez Contractor in sector 91/91 Gurgaon.  The project is built over 600 acres of land and is located in the lap of lush green expanse of 100 acres. DLF City Floors will have 310 apartments of New Town Heights.
DLF Garden City floors are available in various sizes such as 300/350/400/500 Sqyrd. The realtor has hired US based landscape consultant M/S. Geyer Coburn Hutchins (Gch, Usa) for doing beautiful landscaping. The project has a wide 60 to 75 meter serviced road to ensure smooth travel in the premises. Soon DLF Garden City floors will have Galleria 91 complex that will manage your day to day retail needs.