Metro's Extension Is Going To Push Housing, Commercial Realty At Dwarka Expressway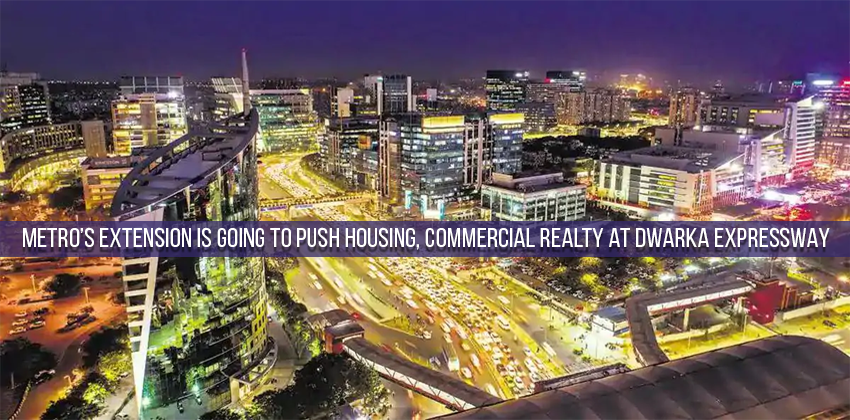 Even the Union Cabinet has recently approved the extension of the metro link from HUDA City Center to Cyber City in Gurugram. This development is expected to see a push to the real estate market in the region. Several players in real estate said that it holds tremendous potential, particularly for the real estate market around the Dwarka Expressway and New Gurgaon, as it is going to receive a significant infrastructure boost. 
Managing Director of Vatika Group, Gaurav Bhalla, the upcoming metro connectivity from HUDA City Centre to Cyber City, Gurugram. It comes with the dedicated spur to Dwarka Expressway ushered in a new era of progress for the region. Dwarka Expressway is bustling with some major projects and development, which stands as a testament to its significance in Gurugram's overall growth. The multitude of individuals relocating to this area and the metro connectivity will serve as a catalyst, fueling the already thriving development of the Dwarka Expressway. Later transforming it into a premium destination. The metro arrival will also invigorate the entire area, selling Gurugram to unparalleled heights of success and prosperity. 
Founder and Chairman of Signature Global (India) Ltd, Pradeep Aggarwal said that the metro extension from HUDA City Center to Cyber City has received approval from the Union Cabinet and could be termed as a remarkable step towards Gurugram's growth. This development also holds tons of potential, particularly for the real estate sector around the Dwarka Expressway and New Gurgaon, receiving a significant infrastructure boost.  This is going to interconnect the various areas of the city like beautifully crafted garlands, leading to the overall development of Gurugram. It will focus on New Gurugram and the surrounding locations along the Dwarka Expressway. This step is going to drive progress and development in Gurugram, giving a positive impact on residents, businesses, and the economy as a whole. 
The implementation of the new metro line in the region will have a far-reaching effect. JMS Group Managing Director  Pushpender Singh said it is going to address vital requirements and stimulate economic growth. In fact, the expansion is going to connect new and old Gurugram while enhancing the overall quality of life. 
He also mentions that it is going to improve mobility and accessibility while attracting an influx of businesses, residents, and investors. The driving growth of the real estate market in both areas and enhancing connectivity creates opportunities for the affordable housing sector. It is going to uplift underdeveloped regions, resulting in investment while enhancing economic prospects.