Gurgram's Rental Homes On Golf Course Extension Road Sees Highest Rental Growth in India since 2019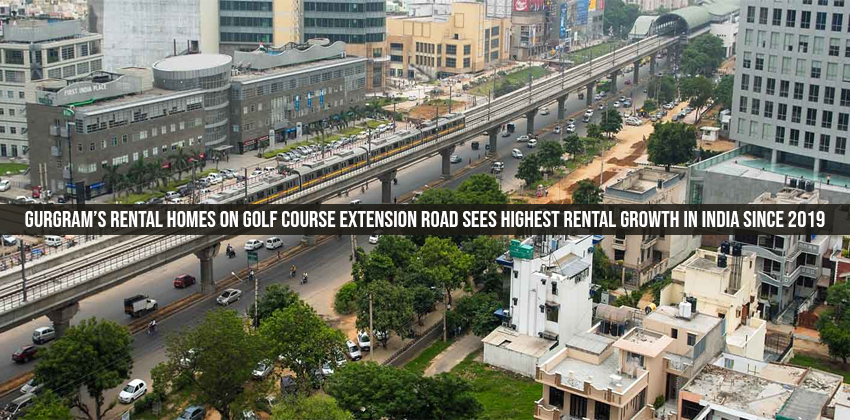 Average monthly residential rentals in the top-seven cities in both the luxury and mid-tier segments were on the rise in 2022. 
Recently ANAROCK data stated that the key residential rental hotspots saw an increase of about 23% increase in the average monthly rentals between 2019 and 2022. Recently, some major residential rental hotspots saw up to a 23 percent rise in average monthly rentals between 2019 and 2022. As a matter of fact, The Golf Course Extension Road in NCR has seen the highest growth of 18 percent to rs 58,000 per month in 2022 which is in comparison to rs 49,000 a month in 2019, for luxury homes of about 2,000 sq. ft. 
The Golf Course Extension Road in Gurugram is following in the footsteps of Hyderabad's Jubilee Hills. This place has witnessed a 17 percent increase from rs 54,000 a month in 2019 to rs 63,000 a month in 2022. 
Smartworld Developers CEO, Vivek Singhal commented, "The price of the property in Golf Course Extension Road has risen significantly in recent years. This micro-market has managed to witness a healthy average capital price of about 7-10 percent on y-o-u basic, in 2019 and 2022, luxury home prices were approximately 2,000 sq. ft in the Golf Course Extension increased by 18 percent, starting from rs 48,000 per month in 2019 to rs 58,000 per month in 2022. He also stated that this massive increase in the average rental is a testament to the fact that it has been poised to lead the growth story of luxury residential segment of the NCR. 
Some developers like Mahindra, Emaar India, Adani, Smartworld, and M3M India have an array of ready-to-move-in or under-construction premium luxury homes at Golf Course Extension Road. If you are looking at some particular area then DLF has got you covered. DLF, the leading real estate developer, is all set to launch a luxury project at sector 63, Golf Course Extension Road. The estimation of the sales of DLF is almost around 7,500 crore. 
Chairman and managing director of Whiteland Corporation, Navdeep Sardana quoted- The real estate market is always in a state of flux and the single thing that remains constant is the "location". So, the golf course extension road always has the highest rental growth of 18%, which is also a sustainable increase. It is also remarkable rental growth which is a testament to the undeniable allure of luxury in a prime location. 
He also added that the growth could also contribute to the location's attractiveness to potential tenants which is the only reason for its solid infrastructure. The location is also in close proximity to the commercial and business centers in the NCR and the availability of quality residential properties. People will also get high-quality properties in the most accessible area and the demand for homes will also drive up the rental rates. 
According to the recent reports by MagicBricks, it is seen that there is a sudden 14% property sale at the golf course extension road which also lies in the range of above rs 5 crore. Nowadays, 3 BHK is the most common room configuration in this locality and accounts for nearly 51% of all properties for sale. 
Aman Nagar, joint managing director of Paras Buildtech commented, the Golf Course Extension Road location is known as a hub of luxury and opulence in the real estate market. The entire location is surrounded by premium land, offering a sense of exclusivity and prestige that would be unmatched by other areas. The unique combination of luxury and location has made this region the most favorable choice for investors looking to increase their return on investment. The region has also seen tremendous growth in residential and commercial development. 
Director of eXp India, Shashank Vashishtha said, the increasing growth in infrastructure has positively affected the local residential real estate market. This ongoing expansion of this region is also a prime example of how infrastructure development has shaped the real-estate market. This is due to the improved accessibility to transportation, amenities, and other essential services. The properties which are close to Golf Course Extension Road have become the most desirable for buyers and investors. The increasing demand for property in this region has driven up prices and allows developers and builders to build new homes and communities. This also improved accessibility to amenities and services can also increase the area's appeal for families and those seeking an excellent place to raise children.