Delhi Mumbai Expressway: Housing Projects are Driving up the Property Prices in Sohna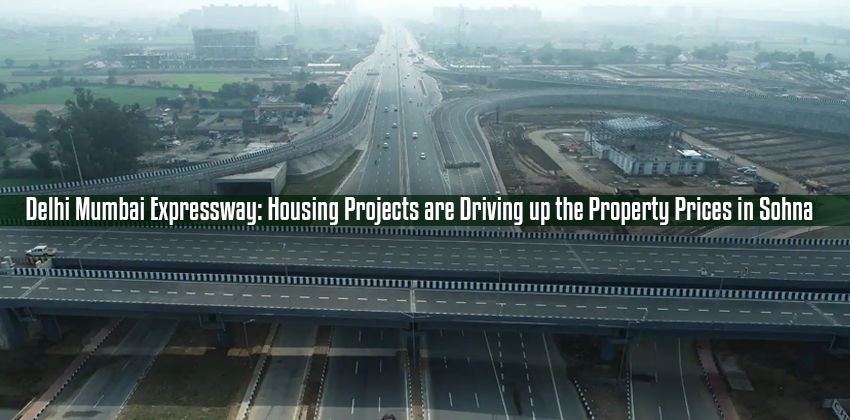 Some people might not know this but Sohna has seen significant real estate activity between 2013 and 2022. It is all because of the affordable property prices. After the inauguration of the Sohna-Dausa stretch of the Delhi-Mumbai Industrial Corridor (DMIC), real-estate owners are hoping for a significant increase in housing demand in the region. 
Moreover, DTCP, Department of Town and Country Planning, and HSVP, Haryana Shahari Vikas Pradhikaran (HSVP) have launched several projects for the development of infrastructure in Sohna. The real-estate industry believed that this would significantly drive up property prices and create new investment opportunities for them. 
Currently, in 36 sectors of Sohna, there are around 10,000 families' lives where around 34,500 units have been launched in the past few years with the average property price range between rs 4,000 and rs 4,500 per sq.ft The Department of Town and Country Planning (DTCP) has been issued a total of 80 licenses for residential projects and commercial colonies in Sohna. 
Rajesh Kaushik, District town planner told TOI, The department and HSVP are aggressively hunting for land for the development of infrastructure in the newly carved sectors of Sohna as per the master plan. There are various awareness drives in the area to encourage landowners to give their land to us under the TDR policy. 
As per the TDR policy, owners used to offer their land to the government in exchange for development certificates that the developers bring to carry out extra construction in their projects as per the norms. 
These lands are taken over by the department under the policy which will be utilized for the development of sector roads, green belts, open space zones, public and semi-public zones, and other various amenities. While the certificate holders will be getting this at much better rates in the open market. 
Akash Ohri, executive director of DLF said, in the past 2 years, the residential market in Gurugram has become the most desirable destination for real estate investment. DMIC is going to boost the housing demand with improved connectivity and mobility. 
Chairman and MD of Whiteland Corporation, Navdeep Sardana, with the opening of the Gurugram-Daua stretch, the region is expected for a multiplier effect in the region. So, the project on Southern Peripheral Road (SPR) is always beneficial. This expressway has the potential to change the landscape of Sohna, will also reduce commute time, and will also give the required impetus to various economic drivers like industries, warehousing, and logistics which will also turn up the demand for residential, commercial, and retail sectors.