Max Estate is all set to invest rs 3,400 crore in Residential and Commercial Projects in Noida, Gurugram in 4-5 Years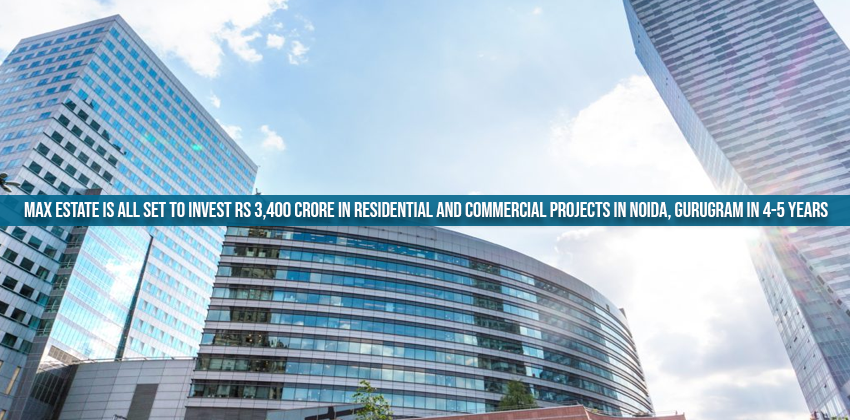 Max Ventures and Industries Ltd (MaxVIL) subsidiary of Max Estate is expected to invest close to Rs 3,400 crore for its new residential and commercial project in Noida and Gurugram in the next four to five years, commented Managing Director (MD) and Chief Executive Officer (CEO) of the company. 
Max Estate has acquired a land parcel in sector 128 Noida and entered into a joint development agreement with the land owner for a housing project in Gurugram. It is expected to launch close to 250 premium luxury units in Noida in July this year. The real estate Max Group is also planning to develop two office complexes in Noida and Gurugram spread over 26 lac sq. ft. leasable area. 
In fact, the estimated cost of developing these four projects is around rs 3,400 crore over the next four and five years. Now, Max Estate has a portfolio of 80 lac sq. ft. of completed, ongoing and upcoming projects. There is also 35 lakh sq. ft of housing and the rest of the project is commercial. The estimated cost of constructing these four projects is almost around rs 3,400 cr* over the next four to five years. In fact, the sales revenue would be around rs 4,500 cr* from the two residential projects. 
We aim to develop residential projects spread across 1 mn commercial every year. It is the very first residential project in gurgaon which will be launched this year and it is located in sector 128, adjacent to Axis House. The land is around a 10-acre rectangular land parcel and it is expected to be the least dense residential project with 250 units. It also has 7 acres of multi-green layered landscape and it is also spread across 1 million it is also expected to have a rs 1,300 cr* plus the top line. 
Max Estate is going to receive the completion certificate for its commercial project in sector 129 in Noida. Now, it is expected to be a seven-acre campus of which 4 acres have been acquired from Axis Bank. We are also going to develop another one million sq. ft in the four-acre parcel and construction is going to start in September and October this year. This is going to take three to four years to deliver this mixed-use campus in Noida by Max Estate. 
When it comes to the Gurugram commercial project, Max Estate has acquired close to 7.15 acres of land that has around 1.6 mn sq. ft of leasable area development potential. The retail and office development will be delivered in two phases. 
Now the company has come up with a residential project in Sector 36 A in Gurugram. This project has spread across 11.8 acres and it is the first intergenerational residential community that Delhi-NCR has seen. The project is going to be developed with a potential of 2.4 million sq. ft, and a top line potential of rs 3,200 crore plus. The company is also going to begin its construction in the first half of 2024. 
It is also expected to be a transit-oriented development (TOD) project comprising 1,200-1,400 units which will be in a combination of senior living and non-senior living. The company has also tied up with New York Life Insurance Company as an equity partner for commercial projects at the project level. Now, New York Life Insurance also has around 23 percent stake in MaxVIL, which is also listed on the stock exchanges. 
Now, the New York Insurance Company has recently announced an investment of rs 290 crore to acquire a 49 percent stake in Max Estates' upcoming commercial project in Gurugram. The company is going to earn close to Rs 100 crore from its completed assets and the annuity income is all set to reach rs 450-500 crore in the next four to five years. It is also going to be developed in the next three commercial projects, named Max Towers and Max Square in Noida, and Max House in Delhi. 
Max estate was set up in 2016 and its first project was 222 Rajpur, a premier residential community comprising 22 villas in Dehradun.