Final Stretch of "Delhi-Mumbai Expressway" to open from July 11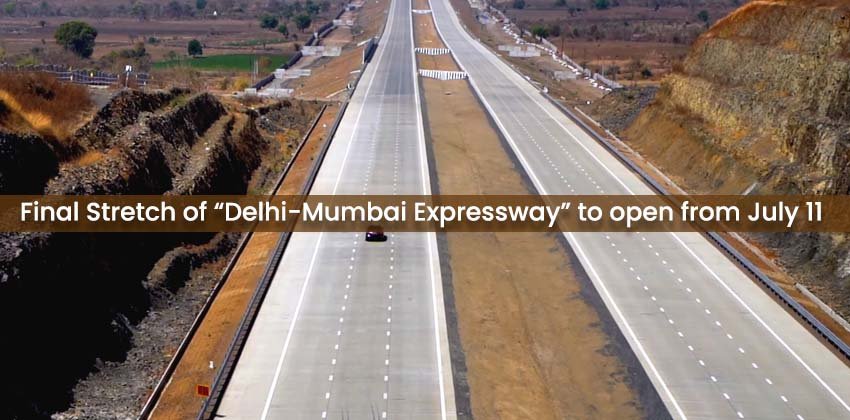 One of the largest infrastructure projects in Delhi-NCR, the 21km elevated road from the Gurugram-Delhi Expressway to Sohna has finally reached its inauguration stage dated July 11. Nitin Gadkari along with Union minister Rao Inderjit Singh will inaugurate the six-lane Sohna elevated road next Monday. Since the work on 9km stretch of elevated road between Rajiv Chowk and Badshapur finished this week, this entire portion will be opened to commuters in coming days. Remaining portion was already opened for the commuters from April connecting Badshapur and Sohna. Total budget of the project is Rs. 2000 crore and this project will help in providing ease to commuters as the distance between Gurugram and Sohna will be reduced many a times by solving the traffic issues.
With the opening of Delhi-Mumbai expressway, relief will be provided to commuters as signal-free corridor junctions such as Vatika Chowk will be provided to them. Vatika chowk is mostly congested during the peak office hours due to Southern Peripheral Road running adjacent to elevated road in Gurugram. NHAI officials have recently announced two more access points near Subhash Chowk and Jail Road in the city. Apart from the Gurugram-Sohna connection, the elevated road is expected to cut travel time for the 120km journey between Gurugram and Alwar to less than two hours which earlier used to take more than three hours to cover. This route is extremely vital to Delhi-Mumbai Expressway link connecting India's two largest urban centers via Haryana, Rajasthan, Madhya Pradesh and Gujarat.
Construction of package 1 of this Delhi-Mumbai Expressway link completed earlier in the budget of Rs. 944 crores and it was opened from the month of April whereas construction of package 2 will cost around Rs. 1000 crores and this part will open from July 11. Construction of package 2 was repeatedly delayed due to pandemic disruptions, ban on construction in NCR during the heavily polluted winter months and issues with shifting existing infrastructure on the route.  Residents are awaiting this project from long time and are relieved that finally the construction is over. They are hopeful that this expressway will resolve traffic congestions, not just on Sohna road but also at intersections like Vatika Chowk.