Godrej Properties plans to divest 14 acres of land in Gurugram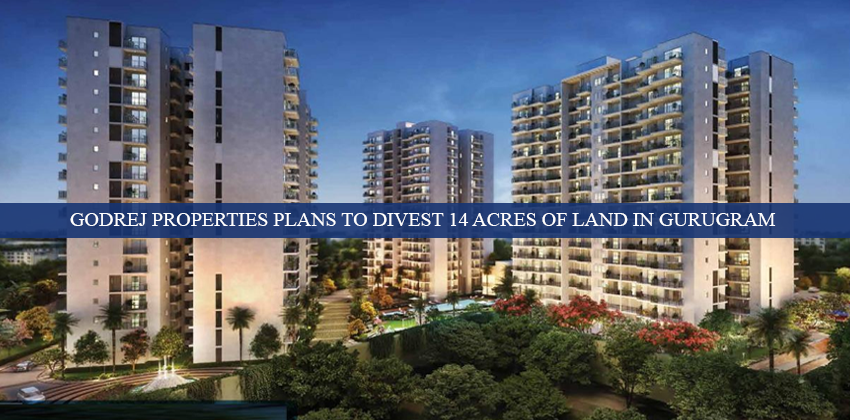 Godrej Properties is in advanced talks with Hero Realty to sell a 14-acre land parcel in Gurugram, which is valued at approximately Rs 730 crore. The Mumbai-based real estate company brought the land in sector 89 around two years ago from a local land-aggregating company. 
The sale of the land is surprising and it was also purchased less than 2 years ago by Godrej. This has also made a deal at a very advanced stage, and both partners have also agreed mutually on the transaction, said two people aware of the deal. 
The asking price on FSI is rs 3360 for 2.1 million sq. ft and the floor area ratio (FAR) available is around 3.5 on the land, which is mentioned in the sources. This Mumbai-based firm which has a strong presence in Gurugram was expected to build one of its largest residential developments in Gurugram. This is also going to strengthen its presence in the city. 
Godrej Properties has also got the license agreement from the Haryana government town and country planning department to develop a mixed-use development with a 5% commercial component in sector 89, Gurugram, mentioned in the government document dated July 2023. 
The company has various projects in Gurugram and recently purchased a 5-acre plot of land for Rs 90 crore to develop a plotted residential project. This also intended to launch real estate projects spanning around 4 million square feet in the current financial year which comes with an estimated revenue potential of rs 3,500 crore. 
This sale is also unexpected, the company has been actively acquiring land in major residential hubs to meet strong housing demand. The company has recently purchased 15 acres of land in sector 103 of Gurugram from Microtek Infratech for rs 403 crore. 
In the last fiscal year, the project aggressively acquired 18 new land parcels with a sales potential of rs 32,000 crore post-development. It will also make a significant land acquisition in Noida and Mumbai. 
In November, the firm also picked up two adjacent land parcels measuring 12.4 acres in Noida for Rs 377 crore in an auction by the Noida Authority. The company made an outright 9 acres of land in Gurugram in December 2022 for a high-end residential project; it has also acquired an 18-acre land parcel in Kandivali, Mumbai, for Rs 750 crore to develop a luxury housing project. 
The project also achieved a 56% increase in sale bookings last fiscal year, an all-time high of rs 12.232 crore, with a bookings target of rs 14,000 crore in FY24.