Fostering Sustainable and Dynamic Urban Spaces through Mixed-Use Developments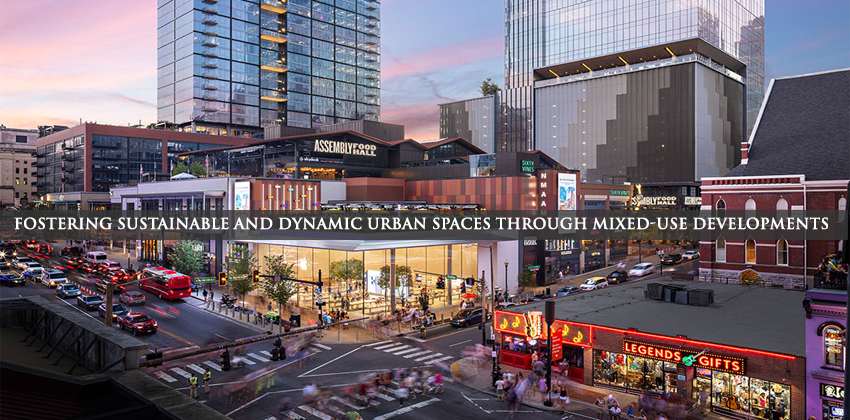 In the upcoming years, mixed-use development has gained tons of popularity. It will reshape the urban landscape while becoming a blueprint for sustainable and vibrant cities. In NCR, Gurugram has witnessed the impact of these innovative projects. It is a perfect blend of commercial, residential, institutional, and recreational spaces. These mixed-use developments come with a dynamic approach to urban planning, resulting in cohesive and accessible communities with diverse amenities that come with modern urbanization. 
Fostering Vibrant Communities 
These vibrant developments encourage social interaction and community engagement, by bringing together diverse backgrounds for socializing, networking, and cultural exchange. It comes with tons of amenities while enchanting residents' quality of life and stimulating the local economy. 
Improved Convenience and Accessibility
Residents here also enjoy mind-blowing convenience with residential, commercial, and recreational spaces. This is also going to reduce commuting time and costs while promoting sustainable transportation methods including walking and cycling. Integrating commercial and retail spaces within residential areas also comes with local business while generating employment opportunities. 
Easy Connectivity To Institutional Spaces
Kids are going to have access to high-quality educational facilities nearby. This is going to eliminate long commutes and create an environment that is going to encourage holistic development. It will also lead to better academic and home life, and institutional land fosters community synergy, as schools are becoming hubs for interaction among students, parents, and educators. 
Moreover, there are tons of challenges while developing a Mixed Use Land Parcel
Zoning and Regulatory Issues
Complex zoning regulations and it will also adherence to building codes necessitate collaboration among stakeholders. This will also include government agencies, developers, and local communities. 
Design and Planning Challenges
The only successful mixed-use development comes with a thoughtful evaluation of the site layout. This will also include site layout, building design, and urban aesthetics while preserving the development's identity, pedestrian-friendly environments, optimized building orientation, and green spaces are essential for enhancing the overall liveability of the project.  
Infrastructure and Transportation
Robust infrastructure and transportation systems are important to support increased density and diverse land uses. The proper road networks, public transportation options, and pedestrian-friendly pathways are important for seamless connectivity within and beyond the development. This has also incorporated sustainable transportation solutions like bike lanes and electric vehicle charging stations contributing to reducing carbon emissions and promoting healthier commuting modes. 
Focusing on Changing needs and trends 
Sustainable Structures: Developers are going to prioritize incorporating green features, renewable energy systems, rainwater harvesting, and efficient waste management to enhance sustainability.  
Integrating Health and Wellness Centres: Mixed-use developments now include health and wellness like fitness centers, wellness spas, walking trails, and access to nature, promoting well-being. 
Smart Technology Integration: Advanced technologies like the Internet of Things (IoT) for efficient energy management, smart parking systems, integrated security systems, and data-driven urban planning. 
Mixed-use developments have come as a transformative solution, a perfect blend of commercial, residential, and recreational into a harmonious whole. With the inclusion of institutional land for schools, it is becoming a natural educational haven. It is also going to elevate the quality of life while fostering sustainability and vibrant urban spaces. As this city is going to evolve the quality of life while fostering sustainability and vibrant urban spaces.