Dwarka Expressway Set for December Launch, Confirms Nitin Gadkari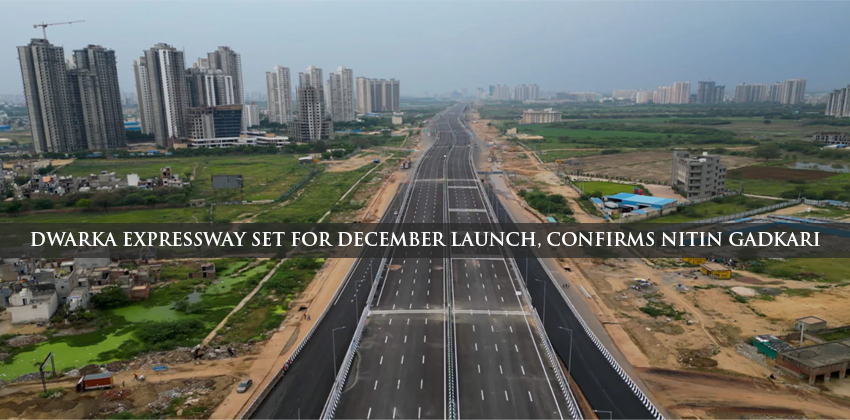 The most-anticipated Dwarka Expressway is going to set a grand debut, with Union Minister for Highways and Road Transport, Nitin Gadkari confirming that it's projected fully operational by the end of December this year. 
This project is called India's first access-controlled eight-lane expressway and is all set to bring seamless connectivity between Mahipalpur in Delhi and Kherki Daula in Gurugram. The infrastructure is just an inch closer to reality, the National Capital Region stands on the cusp of a real estate revolution. 
The Dwarka Expressway is all set to metamorphose into a vital corridor for inter-regional movement, coming its way for augmented connectivity and laying a strong foundation for future progress and prosperity. 
Vivek Singhal, CEO, of Smartworld Developers, said that the Dwarka Expressway stands on its threshold of attaining the status of an illustrious infrastructure marvel in the Delhi-NCR region. The government is all set to dedicate itself to infrastructure development and this seamless connection offers Delhi, Gurgaon, and Manesar to this area to the forefront of the sought-after market in Delhi NCR. 
The locality also boasts exceptional connectivity, mind-blowing infrastructure, and a perfect blend of retail and residential development. It makes it an alluring and financially rewarding investment opportunity for experienced investors and prospective residents alike. The progress in infrastructure comes with commendations for its role in investor confidence and attracting future homebuyers, ultimately contributing to this mind-blowing achievement. 
The mindblowing 29-kilometer, Dwarka Expressway comes with a pivotal role, within the formidable Rs 60,000 crore, Delhi Decongestion Plan. This comes with an estimated budget of approximately rs 9,000 crore. The expressway's remarkable progress is underlined by an impressive 99.3% completion rate of its Gurugram segment. This can recently include a cloverleaf section to ensure that the uninterrupted vehicular along with crucial routes. 
Aman Nagar, JMD, Paras Buildtech, commented that the inauguration of the Dwarka Expressway is all set to bring transformation in the commercial real estate landscape of the area. In fact, the region's improved connectivity and infrastructure are also expected to draw business and investors. It has led to an increase in demand for commercial real estate. This has also shortened travel time between Delhi and Gurgaon and is anticipated to facilitate access to both markets, generating fresh prospects for growth and expansion. The demand for office and retail space is expected to escalate, with businesses establishing a foothold in the area. As the local economy burgeons, a corresponding rise in the demand for amenities and services is projected to create an opening for investors and developers to construct retail and hospitality projects. 
As per the latest report by CREDAI, Delhi NCR stands out amongst the top eight cities with a remarkable 16% year-on-year increase in housing prices and Dwarka Expressway taking the lead with a stunning 59% YoY rise. 
Ravish Kapoor, MD, Elan Group, said that the Dwarka Expressway has emerged as one of the most promising areas. It comes with strategic positioning, exceptional connectivity, and a flourishing corporate landscape significantly bolstering its allure for real estate investments. We came with further appreciation in property value due to the ongoing enhancement of infrastructure. Once the entire expressway becomes operational, housing prices are going to increase. This limited supply of luxury homes and the rising demand and other significant reasons that have led to a surge in demand. Elan is committed to delivering luxury homes to fulfill the aspirations and rising demand of new-age buyers. 
Rahul Singla, director, Mapsko Group, said that the Dwarka expressway marks a milestone in the history of Gurgaon's infrastructure development. It has also enabled smoother and more efficient traffic flow for the residents. The announcement by Union Road and Highways Minister is said to be a testament to the government's commitment to enhancing connectivity and reducing congestion.