Gurugram's Real Estate Boom: Implications for Employment and Economic Deve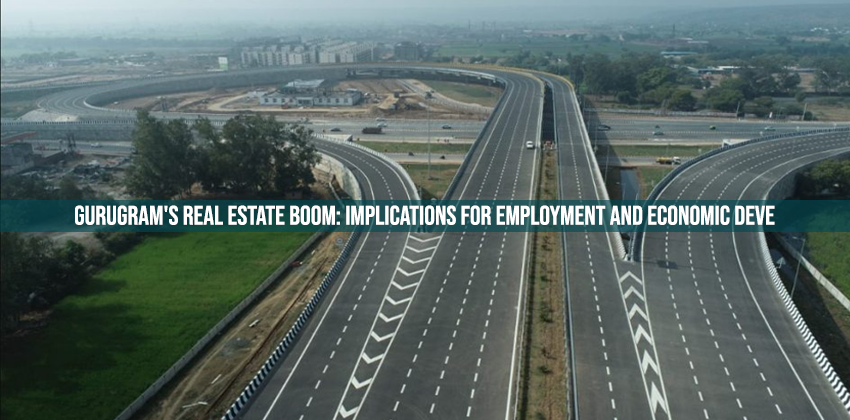 Many people would agree that the location of any business is much more important than the size or the interior of the shop. The reason is quite obvious, the place is more likely to be visited by people. The place's interior is not that attractive to the people.
A larger footfall means larger sales and thereby larger profits. There is something about Gurugram that attracts people to it and it has become an economic hub, by generating more revenue for the government that many other cities have put together. The millennium city, Gurgaon has left behind other townships in the NCR like Faridabad when it comes to business prospects and employment opportunities. As you know Gurugram was once a village of the Guru, hence the name Gurugram or the village of teachers. 
In the modern day, Gurgugram has already witnessed astonishing growth over the past few decades with an array of shopping malls and shopping arcades, offices of multinational firms, and recreational centers from multiplexes to clubs and sports culture. The city has emerged as one of India's most prominent financial and technology hubs. Due to the rapid growth of Gurugram's real estate, it has also played a significant role in employing residents and even people from far and wide. It happens due to its economic opportunities. 
Gurugram is the next boom which translated into its commercial success. It can also be attributed to several other factors. Firstly, it comes with the proximity to the national capital, Delhi. The clean air and cool breeze of Gurgaon have given an excellent option to be around Delhi that can be reached within an hour by car. This is the only reason the city has become an attractive destination for business owners and professionals seeking expansion and better job prospects. Gurugram is also well connected to Delhi with the metro and the expressway, making it an even more attractive destination for business owners and professionals seeking expansion and better job prospects. 
Knowing the potential, builders, and developers came up with the idea of developing a commercial hub by designing large-scale commercial and business parks. These expansive office complexes have attracted various multinational corporations, IT companies, and many startups. Today, Guruhgram looks like a giant glass house that is cut above the rest as the offices and businesses move to Gurgaon. This has also become a thriving employment hub, by offering a wide range of job opportunities across the various sectors. 
Now businesses are thriving in Gurgaon and there is a better opportunity for various multinational companies who would love to have their setup in the premium location near Delhi. This will not only create employment opportunities but also stimulate economic growth. It also gives a major boost to the economic activities in the nearby towns. Moreover, the development of shopping malls, hotels, restaurants, and other supporting infrastructure attracted construction laborers from Bihar and Jharkhand. This is the reason, the city has come out to be the city that employs migrant laborers and people providing allied services like security guards, bouncers, shopkeepers, electricians, plumbers, and lots more. 
Gurgaon's real estate has also triggered ancillary industries and service providers. This city has also witnessed a rise in real estate agencies, property management companies, interior designers, and home improvement businesses. This is the high-end provider that has offered job opportunities for other services such as cab drivers maids, and lots more. 
Due to the sudden rise of Gurugram as a preferred residential destination, it has further boosted its real estate sector. It has an influx of professionals seeking various job opportunities. In fact, the demand for housing has skyrocketed who move in for job opportunities. The growth of the Gurugram real estate sector has seen a cascading effect on the economic development of the region. This will also increase in job opportunities, attracting a diverse pool of talent while leading the rise in human capital.