Elan Town Centre Opens its First ever PVR Cinemas on Sohna Road, Gurugram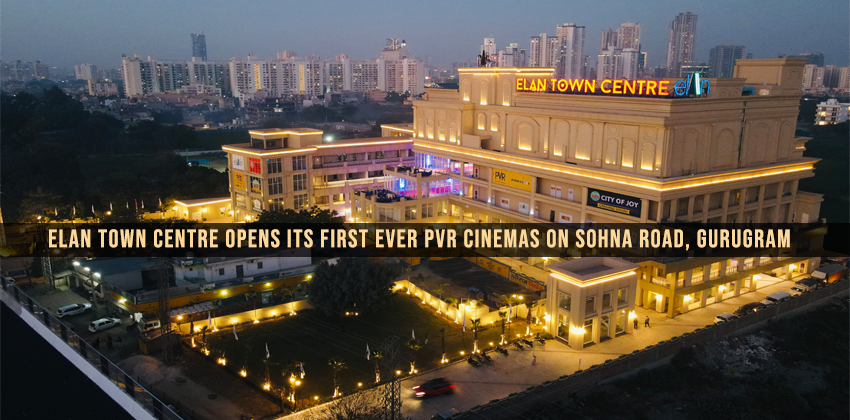 Elan group, one of the leading real-estate developers has announced its 1st four-screen PVR multiplex at Elan Town Centre on Sohna Road, Gurugram. The multiplex has seats for 541 people and offers a wide variety of food and beverage options. The visitor will witness an ultra-luxurious and unrivaled cinema experience. It is situated at sector 67, Gurugram spreads across 2 acres, and includes high-street retails, a savory food court, double-height shops, and a state-of-art multiplex. A multi-level basement parking, and much more.
Some major brands visitors can enjoy are Costa Coffee, Castle Barbeque, Hair n Shanti, Deerika Hypermarket, Manbhavan Thali, Khadim, and lots more.
Ravish Kapoor, MD of Elan Group said the PVR offers its visitors an unmatchable movie experience. It is strategically designed for a luxurious cinematic experience with scrumptious food and beverages, the multiplex will add up to the lifestyle of the visitors.
Elan Town Center is very well-connected to Delhi via Delhi-Gurugram Expressway and NH-248A. It is also surrounded by numerous residential and commercial developments. In fact, the location – Sohna Road is becoming a key real estate choice for many people due to its proximity to various business centers and industries,  overall good accessibility, and planned infrastructure.
Elan Group has 12 commercial projects across major locations in Gurugram and New Delhi plus a total saleable area of approximately 15 million sq.ft. The group has recently launched its first-ever luxury residential project called, "The Presidential" situated at Dwarka Expressway.
The headquarter of Elan Group is in Gurugram and the group is one of the finest and major real estate developers in the country. The group is all about setting new benchmarks of excellence in the commercial and luxury residential real-estate segments. The group offers a spectacular customer experience with innovative and cutting-edge design and architecture, world-class amenities, and convenience. All the projects are strategically located in Gurugram, which is why the group is the leading real-estate developer. The main motive of the Elan Group's project is to offer an "under one roof" concept and are poised to emerge as the one-stop destination for all retail and entertainment needs.