DLF earmarks Rs 1,700 crores for a new shopping mall in Gurgaon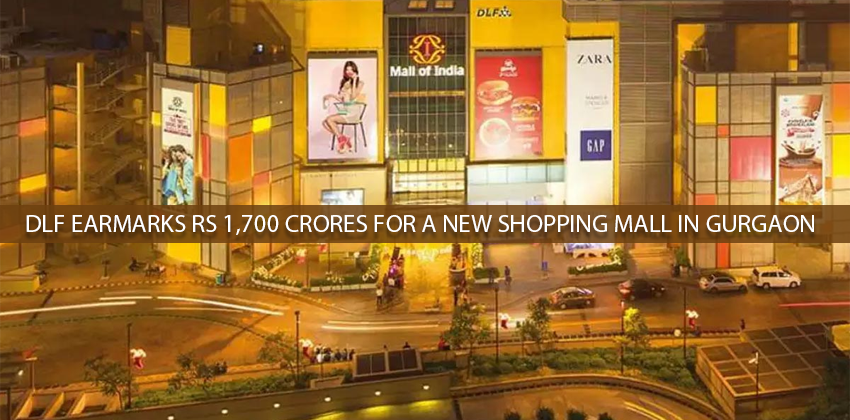 Realty major DLF is most likely to start construction of its new 25 lac square feet shopping mall in Gurgaon this quarter at a cost of around rs 1,700 crore to expand business amid a surge in demand for quality real estate space from retailers. 
DLF has a retail footprint of around 42 lakh square feet comprising 9 properties, including malls and shopping centers, mainly across Delhi NCR. The project's around 3.4 lakh square feet retail portfolio is under DLF Ltd and the rest under the DLF Cyber City Developers Ltd, a joint venture between DLF and Singapore sovereign wealth fund GIC. 
In an interview with PTI, DLF's Vice Chairman and MD (Rental Business) Simran Khattar has recently highlighted how the retail sector has recently bounced back sharply post-COVID pandemic. The company is going to start construction of Mall of India, Gurugram in the third quarter of this fiscal year, said Khattar. The company has recently been elevated to this new position which has the investment of this upcoming mall. The company already owns land historically while the construction cost is estimated to be around 1,700 crore. 
Khattar also mentioned that the company is constructing a premium mall in Goa which is around 6 lakhs square feet. The company is also developing high-street shopping centers near its housing projects that would cater to the requirements of people living around. It has already constructed these shopping centers at DLF-phase 5, Gurgaon and Moti Nagar, Delhi. 
In the presentation of investors for the first quarter of the 2023-24 fiscal, DLF said the significant increase in retail presence; the portfolio has grown to 2x in the next 4-5 years. The DCCDL's considered revenue during the April-June quarter stood at rs 1,412 crore, reflecting a year-on-year growth of 12 percent. 
The revenue from retail business also stood at rs 187 crore during the first quarter of this fiscal year. When it comes to the group level, DLF has also seen a 12% rise in net profit of Rs 527 crore in the first quarter of this fiscal of rs 469.57 crore in the year-age period. The total income rose marginally to rs 1,521.71 crore in the April-June period of the 2023-24 financial year from rs 1,516.28 crore in the year-ago period. 
DLF Group has primarily engaged in the business of development and sale of residential properties. This has also developed more than 158 real estate projects and developed an area in excess of 340 million square feet. The group has a land bank to develop 2156 million square feet across residential and commercial segments.