Luxurious Floors: Elevating Status in Gurugram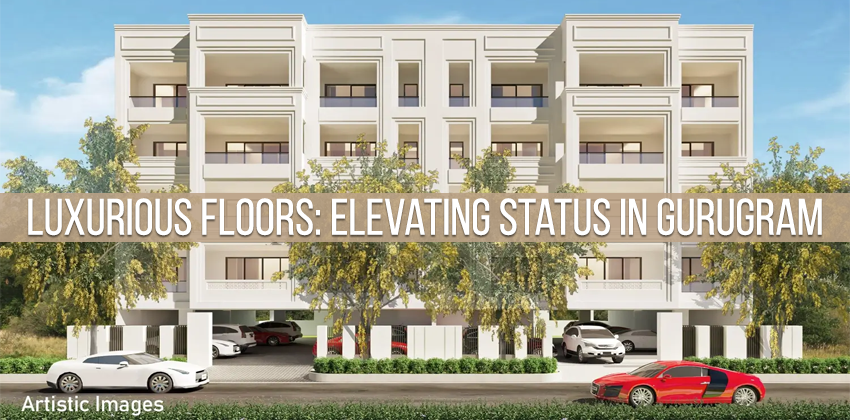 Gurugram has become one of the most sought-after destinations for homebuyers, showcasing an inclination to invest in low-rise independent floors. These independent floors are going to cost 70 lakhs to 5 crores. As per the JLL reports published two years ago, the share of independent floors has also reached to staggering 74% of the total housing units launched in Gurugram 2021. 
The report is going to attribute a large section of homebuyers buying independent floors as it is going to enhance self-awareness and vis-a-vis a matured tilt to choose bigger and more spacious homes. This has also primarily engulfed the general consciousness of the majority of homebuyers post-pandemic. 
The favorable trend has continued and gotten stronger with time as people, even after the slackering effects of the pandemic. Now, as per the findings of the Anarock Consumer Sentiment Survey (H1 2023),' at least 50% of the respondents voiced that they would prefer to invest in mid-range and premium homes. These are priced between rs 45 lakhs and rs 1.5 crore. 
The demand for bigger homes stays unparalleled and it has also witnessed unwavering growth from the consumer side with 47% of respondents showing a penchant for 3 BHKs over 2 BHKs in Delhi-NCR. Gurugram has become a nerve center for the IT industry and corporate powerhouses dispensing thousands of white-collared jobs and well-played opportunities. 
The growing sensitivity towards individual space and privacy has also made independent floors. Both millennials and Gen-Z homebuyers are overturning the market assumptions and valuing wellness offerings over skyrocketing prices. During an allocation to expansive green space, healthy living culture, and fount of recreational habitations/facilities. These are also prioritized in independent floor projects and therefore, leading to a bulk of investments in the region.   
Gurugram has also established itself as a thriving market for luxurious independent floors. The city has also seen a stupendous increase in low-rise housing societies, more than NCR. The high-rise township projects are also predominant, both frugal and environmental reasons play a major role in the homebuyer's propensity to get an independent floor. 
The more frugal benefits are lower depreciation value, maintenance fees, enhanced resale capacity, independent floors while ensuring better cleanliness facilities and indoor air quality, reduced pollution concerns, and health hazards. Wellness amenities such as Green Rooftops, Meditation Rooms, Concierge services, recreation centers, and spa rooms absorb much greater space in independent floor projects.
Vikas Garg, joint managing director of Ganga Realty, said that Gurugram has become one of the most preferred choices for luxury home buyers. There is a wide range of housing options and scalable amenities. After the pandemic, we have seen a visible increase in premium properties to enjoy the wide array of wellness offerings. 
The real estate market in Delhi NCR is often a microcosm of significant futuristic developments. The quick uptake of independent floors in these regions is a sign of its gradual spillover in several property markets in the country. Tons of realtors find it much more profitably incisive to interest in low-density societies, especially in Gurugram. The healthy consumer demand has also emboldened developers to sink their money into them. Lower construction costs and faster sales rates have also attuned them to invest in independent floor format housing. 
Saransh Trehan, MD, Trehan Group commented that the Delhi NCR typifies the best offerings in mid-housing and premium residential projects. Moreover, in reality, belts such as Golf Course Extension Road. independent floors have also seen a swift increase in demand in these corridors.