With attractive deals, real estate becomes buyers' market amid Covid-19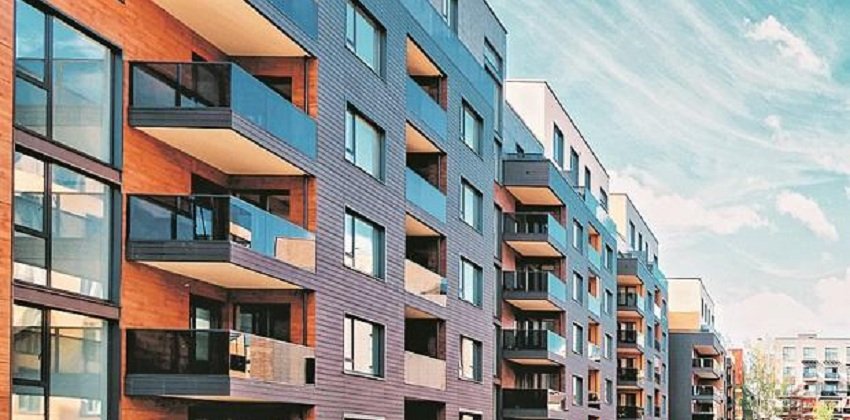 Just before the lockdown began, Ritesh Chandra managed to sell his ancestral house in Uttar Pradesh. To avoid paying capital gains tax, this Delhi-based financial professional plans to reinvest the proceeds in another property in the National Capital Region (NCR), Lucknow or Jaipur.
He has searched online and prepared a list of prospective sellers. "I am waiting for the lockdown to end and will then do on-the-ground due diligence," says Chandra. Like him, thousands of prospective buyers across the country have been stymied in their efforts to purchase a house. A survey conducted by real estate portal Magicbricks in the second half of April (covering 1,900 respondents across 12 cities) found that 33 per cent want to drop their purchase plans altogether or defer them. About 73 per cent are thinking of reducing their budget.
Troubled times: Potential buyers face risks on two counts. The first is a possible salary cut or even job loss. The price of a residential unit, on an average, is 9-10 times annual income in a city like Mumbai, and about six-seven times in most tier-one cities. "People want greater certainty on the job front before they take on such a significant liability," says Ajay Sharma, managing director, valuation and advisory services, Colliers International India.
The lockdown has also increased risks within the realty sector. Commonfloor conducted a survey of 300 developers across the country in May. Most said demand has dropped significantly. Two-thirds said their business has come to a standstill. It means many will struggle for cash flows. Developers also said labour shortages would make it difficult to launch new projects and complete ongoing ones.
Enough good deals: People whose jobs or businesses remain unaffected and who have adequate savings will find it rewarding to purchase now. "Residential realty was already very attractive before the Covid-19 outbreak, with prices having corrected 15-20 per cent over the past three-four years. Home loan rates are also low currently. And with builders facing a liquidity crunch, it is a good time to bargain for discounts", says Shalin Raina, managing director -residential services, Cushman and Wakefield. He adds that quality developers are willing to offer deals of 5-10 per cent. These could be in the form of a price discount. They could also be in the form of attractive payment plans and freebies. According to Sharma, developers in the next rung could offer deals of up to 10-15 per cent. Even better deals of up to 15-20 per cent are available in the affordable housing segment. He adds a caveat: "How much discount you get also depends on the developer's desperation for cash flows and project location."
Sudhir Pai, chief executive officer, Magicbricks confirms that prices have corrected during the lockdown for the listings on their web site. "The asking rate has come down 2-9 per cent during this period,", he says.
Attractive opportunities are available in the secondary market. "Many people facing financial stress want to liquidate their properties, some of them situated within good localities and within good complexes. Bargains are available on them", says Raina.
Waiting for primary market prices to fall further could be futile. With developers already operating on thin margins, steep cuts are unlikely. "Make use of this window of opportunity. Good deals are available now due to the cash crunch developers are facing," says Pai.
Curtail your financial risks: Owing to the threat of job loss and salary cuts, end users planning to buy now should take a few precautions. "Have money available to cover one year of equated monthly instalments (EMIs) and one year of expenses", says Vishal Dhawan, chief financial planner, Plan Ahead Wealth Advisors. Double-income couples, he says, should be prepared for at least one of them facing a salary cut. "If a couple's net take-home salary is Rs 100, then factor in a 30 per cent reduction.Thereafter, make sure your home loan EMI does not exceed 30 per cent of the reduced amount", he adds.
Those who plan to sell one house and purchase another should complete the sell transaction first. If they book a flat and the person they are selling to backs out of the deal, they could get into trouble.
Those, like Chandra, who have sold a house and plan to buy another for tax benefit should re-evaluate their decision. They should ask themselves whether it is prudent to buy another house currently, especially if it entails taking a hefty loan, or if they should just pay the tax.
Choose developer prudently: Labour shortages will pose a problem. "The entire industry will face this issue. Buyers need to watch out for the risk of project delays", says Pai.
The best way to circumvent development risk is to go for a ready-to-move-in property. However, it will cost you more than an under-construction property – as much as 20-25 per cent higher in a city like Mumbai and at least 5-10 per cent more in most others.
If you decide to go for an under-construction property, check the developer's track record on timely project completion and his financial situation. "If quality banks are unwilling to lend to buyers for a particular developer's project, steer clear of it", says Raina. Financials of listed developers, which are easily available, will tell you how leveraged he is. By speaking to brokers (the more organised ones) and the residential teams of financial institutions, you can also get a fair idea of his reputation and track record.
The real estate regulatory authority's (RERA) web site offers information on when construction started. If a 300-400-unit project has not been completed within two-and-a-half to three years, it could be a pointer to cash flow issues. Some RERA web sites also offer information on whether the project is embroiled in litigation.