Wait ends, November 3 launch for Gurgaon's Vatika Chowk underpass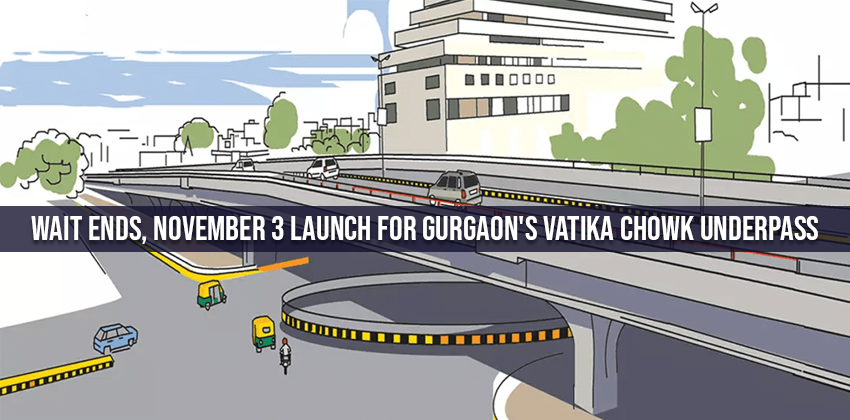 The underpass at Vatika Chowk is all set to be opened to the public. The chief minister Manohar Lal Khattar will be inaugurating the structure on 3 November. 
The 825m has come up with construction by the National Highways Authority of India (NHAI) for rs 109 crore.  The operational underpass comes with the benefit of thousands of commuters headed towards Faridabad and NH-8. It will also offer smooth inter-sector connectivity in the newly launched sector along the Southern Peripheral Road (SPR). 
When it comes to NHAI officials, Union Minister and local MP Rao Inderjit Singh is more likely to be present in the underpass in the inauguration event. Vatika Chowk also comes with the busiest junctions as vehicles moving from the direction of Rajiv Chowk on NH-8, Sohna and Ghata Chowk on Gurgaon-Faridabad road, and Narsinghpur on NH-8 or the Dwarka Expressway intersects. 
The underpass was also a part of GMDA's plan to redevelop SPR from Ghata to NH-8 as a signal-free mobility corridor through the Sohna elevated road. This project also got CM's administrative approval in July last year and NHAI agreed to undertake the work. 
The bi-directional underpass was also supposed to be completed by June this year. This also comes with an excessive and frequent spell of rains impeding the work progress, while delays in getting funds further affected its pace, said the officials. Deputy Commissioner Nishant Yadav also inspected the underpass last week and instructed the officials concerned to complete all the necessary works within the stipulated time. 
The civic authorities have also undertaken various infrastructure development work to facilitate smooth connectivity in the city. This underpass is an important infrastructure project and it will also open to the public after the inauguration. Once operational, this underpass also ensures smooth connectivity between the Golf Course Road Extension to NH-8 and helps in reducing the congestion at Vatika Chowk, by reducing travel time, Yadav told TOI. 
The NHAI official also said last-minute preparations are underway given the November 3 event. The construction is also going to be completed, while beautification and housekeeping work are also being carried out. The final safety checks and testing as it comes underway to ensure that the structure is ready for traffic, a senior NHAI official said. 
The electrical work has also been completed by NHAI, and GMDA has also taken the power connection from DHBVN for the streetlight, said the officials. GMDA has applied for the connection and DHBVN officials said they will also release the start supply within a day or two. 
The residents have also welcomed the news, saying it brings it much-needed relief from traffic snarls at this junction.