Top 5 Commercial Realty Trends to Witness in 2022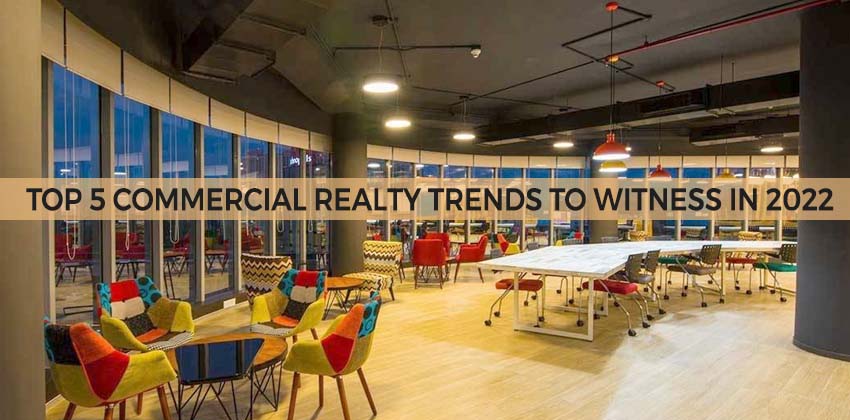 Last year saw astounding response residential and commercial real estate in India. The demand for residential apartments and plots post nation-wide lockdown grew and so the property prices per square feet increased. The corporate world has begun to show rising interest in expanding operations due to improvement in connectivity and economic growth. The year 2022 may witness sky rocketing demand for freehold commercial and residential properties as well high returns for investors.
As per Knight Frank's 2022 Outlook Report, the residential and commercial real estate sector would be more stable in 2022 as compared to the second wave of Covid-19. Let's take a closer look some trends that real estate will witness in 2022.
Rise in Demand for Co-working Spaces
Last year saw rise in office closures and a rapid shift to ubiquitous work from home model. With the rolling out of vaccines, individuals returned to workplaces. Companies invested in digital capabilities to enable employees to work from home. The greatest developments have been the growth of a hybrid workforce across various workspace options, including flexible offices.
Owing to the demand for worker flexibility and portfolio re-optimisation, flexible workspace providers expect to increase their portfolios in coming 2-3 years. Hub-and-space models, rise in the number of strategic partners, demand-driven expansions, and special focus on safety, technology, and health, are among a few of the primary drivers that will boost adapt-to-suit workplaces market forward.
 SCO Shop-cum-office space indicates monetisation
The Shop-cum-Office (SCO) plot concept got green signal from the State Government's new planned colony policy. Under the Haryana government scheme, developers are allowed to sell plots where buyers can build up to four floors and use them for personal or retail purposes. The SCO markets saw exceptional success, with early investors' capitals multiplying many folds in no time. They also enjoyed benefits like regular cash flows, longer leases, and a good income.
Environment-friendly Commercial & Residential Development
Indian real estate industry will focus on making environment-friendly residential projects. Stakeholder interaction and transparency are becoming important to investors that want to make business investment decisions. Developers are putting stress on achieving LEED, IGBC, GRIHA & BEE certifications in construction to allow significant reduction in carbon footprints.
Rising demand for free-hold property
Most of the commercial plots are leasehold which means they can be occupied for a set time, usually 99 years. Government bodies including municipal corporations and Housing Boards carry ownership rights. The freehold property owner has complete control over the property. It's been ages that the commercial and industrial community is demanding right to own properties to boost expansion and borrowing. Government should make some policies that convert leasehold to freehold industrial plots to elevate ease of doing business. In 2022, we will see more such properties getting explored.
Rising demand for Data centers
Digitization has never been more important earlier, especially after the outbreak of Covid-19. It has came as profitable avenue for Data centers as they will still offer annual rental yields approximating 15%. Companies all over the world began to reshape their digital capabilities especially infrastructure to cope with the new work environment immediately after India had witnessed complete lockdown amid Covid-19, leading to 25-35% rise in data center capacity consumption. If we look at the stats, then Indian data center market houses 445 MW of IT capacity which is likely to be added by 290 MW in 2022 which would make to total 735 MW by the next year end. The demand for secured data centers got pushed due to a huge surge in e-commerce, rise in business webinars and video conferencing, work from home mandates, online education, video based medical consultations. Moreover, government's decision to allow mandatory localisation of data center marks bright future for Data centers. Today, data centers are considered as alternative real estate asset class having huge potential.
In 2022 we will witness sharp rise in SCO concept development.