The Demand for Bigger homes & Plots to Rise in Gurugram: Housing.com Research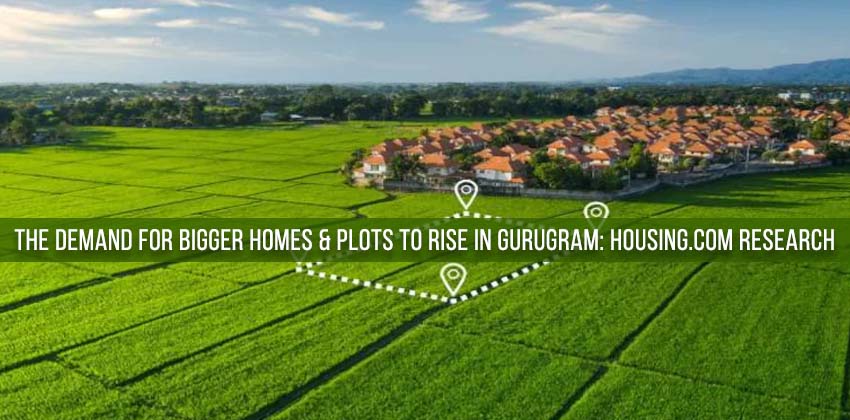 Housing.om research shows that the demand for premium apartments will rise in future owing to the rising home buyer interest. Reason being, Gurgaon saw 1.6 times more queries recorded worth INR Rs. 2 Cr and above in 2021. As per reports, Gurgaon accounts for more than half of new commercial supply in Delhi NCR, with 30% of affordable and mid segment housing.
Kushagr Ansal, Director, Ansal Housing & President, CREDAI – Haryana says "The Gurugram market in Delhi NCR, according to several reports, is performing well on many fronts, including the livability index. In the next 36 months, the city expects to see roughly 50,000 units delivered. We can say that the top developers alone will provide more than 30,000 units in Gurugram because we are dealing with them. Liquidity is the most critical issue, and it must be handled immediately. Furthermore, delays from the government must be avoided for the project to be completed faster,".
Apartments with bigger configuration will get boost with the growing home searches by 59% YoY for properties with configuration of 3+3BHK.
Nayan Raheja of Raheja Developers says "COVID-19 has instilled an urgency to live in places that can take care of every necessity of life; larger spaces and access to health infrastructure have come out as the deciding factors while choosing a residential property. Furthermore, when they evaluate their current demands and those that will arise in the coming years, nuclear families are opting for more spacious homes. Talking of Gurugram, we are noticing increased demand for healthier projects such as our Riyasat Farmlands that provide pure lifestyle. In other parts of the city also, the locations that are close to hospitals and provide vast green spaces are getting the utmost attention,".
The biggest challenge for realtors would be to meet the gap between demand and supply without compromising on the quality. If we talk about the overall situation of the country, then the biggest problem in real estate is to maintain the rising demand that has grown due to the consequences of pandemic. Buyers are getting more specific about what they need in a property, and only high-quality developments will be able to meet this increased rush of informed buyers/investors. Moreover, plots will emerge as the favoured property type among the buyers in Gurgaon as 2.5 times more buyers searched for plots in 2021.