Plots & Independent Floors Witness Strong comeback in Pandemic, Overtaking Apartments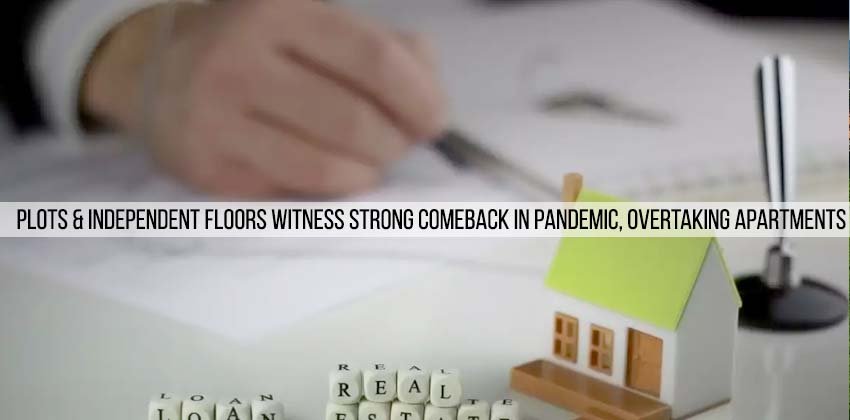 Demand for independent floors and plots saw a strong comeback outstripping apartments. Residential plots prices have clocked a compound annual growth rate CAGR at 7% since 2015 across eight major cities, whereas rates of apartments grew 2 percent CAGR during that time, recent research by REA India showed.
Dhruv Agarwala, CEO of Housing.com, Makaan.com, and PropTiger.com, said, "Residential plots have been able to generate a higher return on investment. One of the reasons could be the limited supply of plots in big cities because of a paucity of large land parcels".
Agarwala said, "The demand for plots and independent floors has come back. Developers are trying to meet this rise in demand by launching such projects on the outskirts of big cities".
People from eight major cities like Delhi-NCR, Mumbai, Pune, Bengaluru, Hyderabad, Chennai, Kolkata, and Ahmedabad prefer to buy apartments over plots. That's because of the availability of standard amenities and security. For instance, power backup, car parking, clubhouse, gym, swimming pool, garden area, etc.
Regardless of the high demand for apartments in these eight cities, current and historical trends suggest that plots are clocking higher returns than residential assets.
As Ankit Sood, head of research at Housing.com, Makaan.com, and PropTiger.com, said, "We saw key localities in Gurugram and the southern sisters of Hyderabad, Bengaluru, and Chennai recording double-digit growth prices for residential plots especially after 2018. Where prices for land in the cities grew in the range of 13-21 percent in the last three years, apartment prices have remained range-bound (2-6 percent). Positive sentiments induced by policy changes and the pandemic will further fuel this demand in coming quarters."
If we look at the southern Indian cities, the demand for plots from 2018 to 2021 saw the most appreciation in the price of plots clocking 21 percent CAGR. Chennai also registered a rise in prices of residential plots between 2018 and 2021. 2021 saw the cities like Ambattur, Avadi, Sriperumbudur, and Thaiyur witnessing the price appreciation in Chennai. Bengaluru city registered a rise in residential land prices at a CAGR of 13 percent between 2018 and 2021.
In North, Gurugram takes the lead.
Delhi-NCR's Gurugram saw a rise in prices for residential plots at 15 percent CAGR between 2018 and 2021. During this period, the land prices in Sohna, Gurugram clocked 6 percent CAGR.
Other areas like sectors 99 and 108 along the Dwarka Expressway, sector 95 A in New Gurugram, and sector 70 A and 63 were significant areas for residential land in Gurugram in price and demand appreciation in 2021.
The prominent cities that saw a rise in residential plot prices last year include Karnki, Sohna, Sector 14, and Sector 5 Sohna. Moreover, the supply of residential plots in Gurugram is high owing to the policy-based initiatives by the Haryana government.
A report by Magicbricks showed that homebuyers' preference for plots has been increasing rapidly, leading to a significant demand rise tat today it stands on a par with that for apartments. The survey showed that apartments were the most preferred option, with 36% of respondents voting for them, while plots came as the second most preferred asset with 34% votes. 20% of respondents voted for independent houses and 10 percent for villas.
Demand for plots has been significantly rising with the changing preference of buyers seeking more space for office post COVID. If we go by Magicbricks reports, the high demand for the plot was seen in the cities like Bengaluru, Hyderabad, Chennai, Lucknow, and Pune. In supply, cities like Hyderabad, Chennai, Lucknow, Gurgaon, and Pune topped the charts.