The Demand for Gated Community Homes on the Steep Rise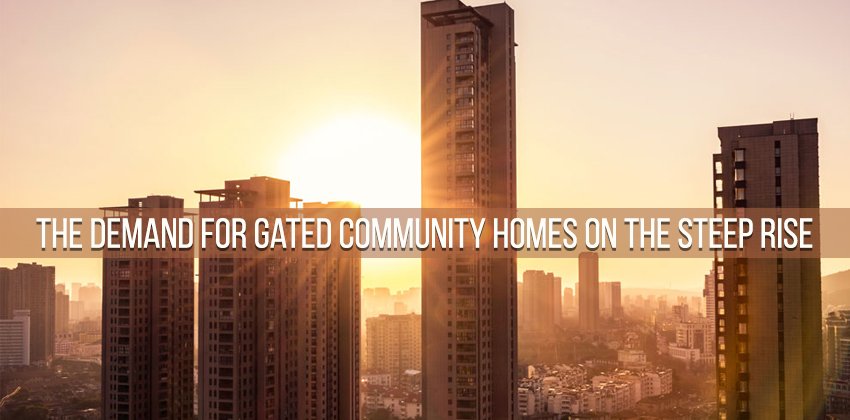 It is being witnessed that the prospective buyers like to enjoy the access to luxurious and healthy lifestyle. That is why they prefer to live in independent floors and villas located in gated community.
The same has been confirmed by the developers and property consultants that the buyers prefer safety and convenience over other things especially in the event of a lockdown. Additionally, the prospective buyers also show interest in amenities including gymnasium, swimming pool which you generally find in integrated township.
The founder of Auramah Valley, a township in Naldehra, Shimla, and chairman of Imperial Holding Pvt Ltd, Mr. Manav Singh says, "Even in the holiday home segment, we are seeing more demand for projects that follow the concept of a gated community. It is no longer a second home as people stay for longer periods and want all the facilities," said According to a recent report of consulting firm Redseer, premium and luxury segments in gated communities have seen higher growth compared to budget and affordable segments.
The DLF Group, (Which has developed the super luxury residential project 'The Camellias' in Gurgaon) has stated that it has registered higher sales post-Covid since it continued to provide all the facilities during the lockdown. The realty giant has also found the spike in demand for independent floors that are part of a society.
Aakash Ohri, group executive director and chief business officer at DLF Home Developers Ltd  says, "In a post-pandemic scenario, despite the proliferation of ready-to-move-in properties, especially in condominiums and integrated townships that offer a secured environment with greater amenities and facilities within the gated communities, independent floors will continue to remain an attractive investment option due to lower investment costs,"
The stats shows that the premium and luxury segment projects make for 14–15% of overall gated communities, which is expected to grow up to 20% in the next five years. This trend is the result of rising preference of high income household to go for gated communities.
Vivek Singhal, CEO of Smartworld Developers says,  "Buyers are now preferring homes to accommodate office space and study rooms for their kids to have a perfect work-life balance,". "This has propelled a preference for independent floors located in gated townships with best-in-class amenities."
Likewise developers such as M3M, Smartworld, and Trehan are offering common amenities even in low-rise societies and developing them as a township. This practice has been followed by the developers who only sell plots.
Sudershan Singla, founder and director of Chester Hills Pvt Ltd, a gated township in Solan says "We are witnessing high demand from all across India for our villas and plots in Shimla and Solan in Himachal,"
One of the spokespersons of  Karle Infra Pvt Ltd says "You can expect an increase in the number of buyers of gated community residences in years to come," "The concept of gated communities promotes a holistic vision that is ideal for the entire family and thus will be the ultimate choice for many homebuyers."
Manish Jaiswal, group COO of real estate developer Eldeco Group says "In the past few years, demand for gated communities with managed security, large open spaces, and lifestyle amenities has gone up manifold,". "The need for larger spaces both inside and outside one's house is the new normal."
The demand for gated communities and residential properties has increased rapidly as it is considered as a stable asset class due to assured returns among HNIs, NRIs, and millennial.
According to the Redseer report, India's gated community consumption will be second only to the US by the year 2026, and households in gated communities will be 32 million by 2031.