Smart World to Invest Rs 1,200 Crore in Developing 2.8 Million Sq.Ft in Gurgaon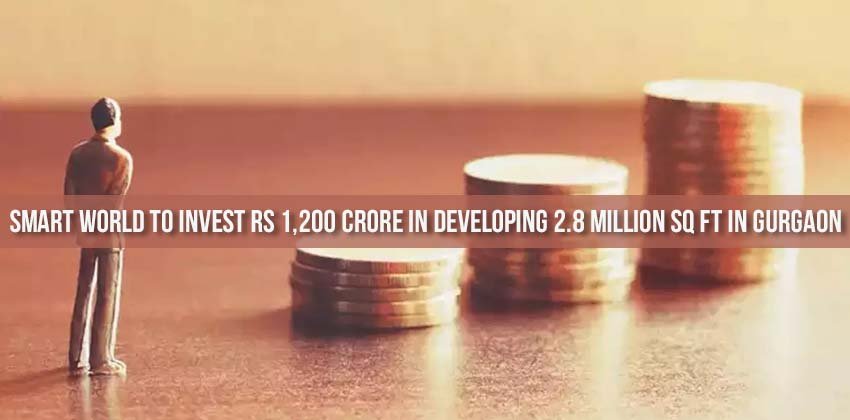 CEO of Smart World Developers, Vivek Singhal confirmed that the Smart World Developers is going to invest Rs 1200 crore in developing 2.8 million sq ft residential area spread across 2 projects in Gurgaon.  The process for approval of these projects is in pipeline and construction is expected to kick start in next 2-3 months. Singhal confirmed, "These two projects will be the major focus in 2022, apart from sale of balance inventory of two earlier projects we launched in 2021. We will also enter at least two cities outside NCR and are evaluating proposals in Pune, Bangalore, and Hyderabad,"
Smart World Developer has also bought 16 acres of land in sector 113 on the Dwarka Expressway. The first phase of the project will cover 1.5 million square feet. Singhal further says," These two projects will be the major focus in 2022, apart from sale of balance inventory of two earlier projects we launched in 2021. We will also enter at least two cities outside NCR and are evaluating proposals in Pune, Bangalore and Hyderabad,"
Smart World Developers had acquired two land parcels in Gurgaon and launched phase-1 of low rise residential projects.  Singhal said "Total potential of the land parcel is 4 million sq. ft of which we will develop 1.5 msf in the first phase at an investment of Rs 600 crore. There will be premium residential development and a total of 1100 units will be an offer".
Moreover, the company also plans to develop a luxury residential project in sector 65, Gurgaon. Singhal also said, "This will be 1.3 million sq ft on a 7 acre land parcel with a total investment of Rs 650 crore. We will bring products which are not available in that micro market. This will be priced between Rs 3-5 crore per unit". The company's land acquisition strategy also includes the acquisition of 2 more land parcels within Gurgaon.". The company also has plans of expanding outside NCR in 2022.
Mr. Singhal stated  " Currently, we are evaluating multiple deals , but we want to make sure to come up with a big project outside NCR. Next year, we will enter at least two markets between Pune, Bangalore and Hyderabad, while Noida will begin too,"
The Smart World Developer (financially backed by India Infoline),Piramal Group and the Bansal family is all set to invest Rs 8,000-10,000 crore in the development of the residential projects in Gurgaon in the next few years.