Smartworld Developers Pvt. Ltd. has got the place under "Great Place to Work"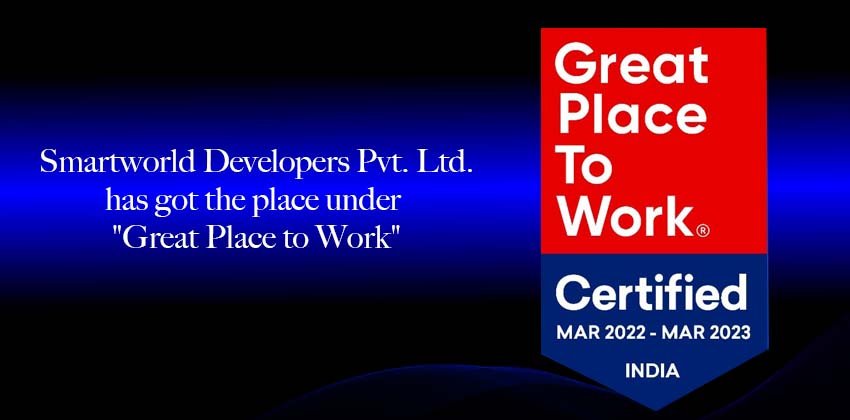 Smartworld Developers has been certified as Great Place to Work in India from March 2022 to March 2023. The Great Place to Work certification is given to those companies who offered positive work environment resulting to employee satisfaction. Smartworld is a new real estate developer that has their headquartered in Gurgaon.
Smartworld is known for offering employee friendly workplace policies and practices. The group has introduced an open culture for its employees where there is a regular communication between the management and the employees. This will help in achieving the vision and purpose of the organization.
The Smartworld developers believe in creating cross-functional teams and working in collaboration to achieve the desired goal together. There is also an arrangement of feedback sharing through which the company try to deliver the exceptional customer experience satisfaction.
The Smartworld offers equal opportunities to both the genders whether it is remuneration or the responsibility. The company offers an environment where the authority and the responsibility are given on the basis of merit and capability.
What make Smartworld different from others is the sturdy reward and recognition programs that motivates the employees to achieve the goals at the individual, team, and business levels.
 Great Place to Work is the international authority on workplace culture. From last 20 years the authority has surveyed more than 10 crore employees globally and used those valuable insights to set benchmark for a great workplace.
 A recent survey released by Great Place to Work authority helps leaders with the feedback, real-time reporting, and valuable insights that they can used to make strategic decisions. The authority caters to businesses, non-profits and government agencies in over 60 countries and has done ample of research on the characteristics that make great workplaces for more than thirty decades.
Vivek Singhal the CEO of Smartworld Developers stated, "The Great Place to Work certification demonstrates our commitment to supporting our workforce and acknowledges our dynamic human capital. Our employees are at the heart of our organization's culture & value system and we attribute our success to them."
"It's a privilege for, and we'll continue to nurture a conducive working environment that allows our employees to grow and learn so that they can thrive professionally as well as personally." Vivek Singhal further added. 
Smartworld Developer is a envisioned as a progressive company In India that is expected to build path-breaking projects in India. The group is backed by leading organizations including India Infoline, Piramal Group, and the Bansal Family.