'Live Close to Work' to Accelerate Residential Real Estate Demand in Future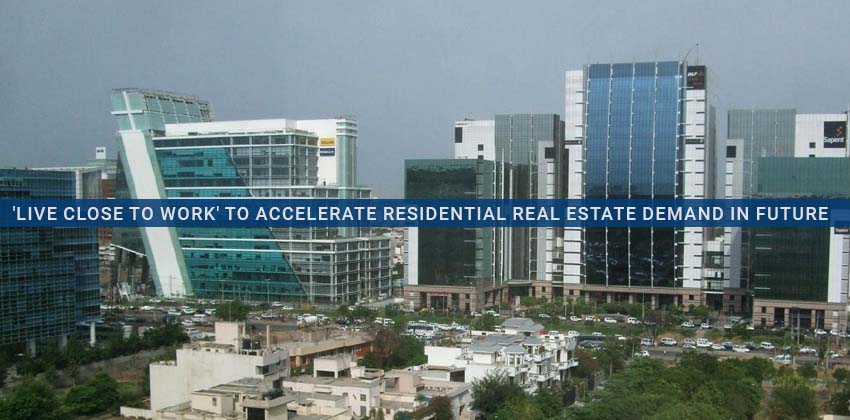 As per ANAROCK-CII study, the share of shared working spaces is likely to increase from 3 percent to 4.2 percent, registering growth of 15 to 20 percent in this year.
Knight Frank Report states that commercial real estate will see a surge in second half of 2020 wherein top eight cities registered a transaction of 22.2 mn sq.ft. during this period, while the new completions were found to be 17 mn.sq.ft.
If we talk about office leasing space in NCR, then it saw growth of 24 percent. Gurgaon and Noida have a share of 45 and 43 percent respectively in overall occupancy in NCR.
As the commercial real estate sector is gaining popularity and got recovered from the pandemic slowdown, the residential areas located in close proximity to these business centers will also expect a rise in demand. Seeing this rise in demand, developers are developing future ready office spaces to match the post pandemic demand. While many people left the city to look for spacious and affordable living space, the shift in demand for homes in bigger cities was registered which is still prevalent with the opening of offices.
 The leading business hubs of the country like Bandra Kurla complex in Mumbai, and Cyber City Gurgaon are examples of social and physical infrastructure development around commercial hubs that feed into demand for such residences in the neighborhood.
 With the growth of the commercial real estate market, the residential properties have become far more attractive to house hunters looking to live near their workplaces. This rise in demand can also be attributed to factors like close proximity to Delhi and Gurugram's "into the future Infrastructure".
 One of the most popular premiums residential pockets of Gurgaon are DLF CITY Phase 3 continues to attract the attention of homebuyers. DLF City Phase 3 has evolved as the nerve center of Gurgaon with the advantage of being connected to Delhi via Nh-48 and MG Road. The area offers easy access to the leading landmarks of city and leading commercial hubs like Cyber City and Udyog Vihar. DLF City Phase 3 enjoys best metro connectivity within walking distance and easy connectivity to multiple metro stations. This area also enjoys a robust social infrastructure and offers an array of lavish wellness, entertainment, and leisure amenities in the shape of a Cyber hub. Therefore, DLF phase-3 is expected to experience a boom in the residential realty market