DLF to Build Shopping Malls in Gurugram , Goa worth Rs 2,000 cr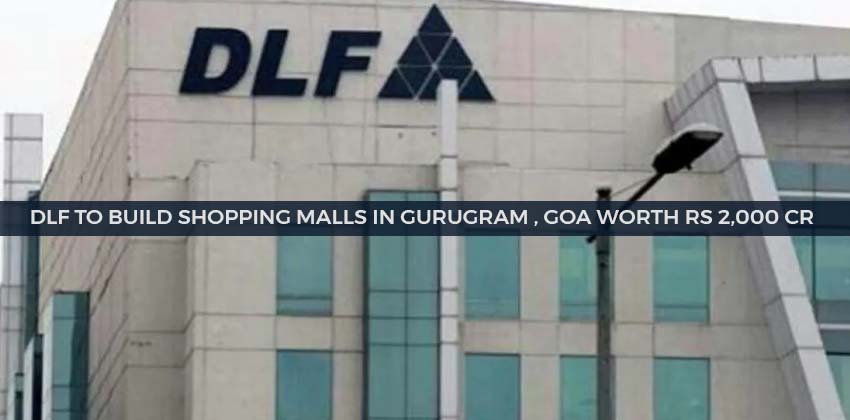 Realty pioneer, DLF, is all set to invest Rs.2000 cr for the construction of 2 new shopping malls in Gurugram and Goa. The reason for investment is huge potential for growth in the retail sector with the opening of the economy after COVID-19 cases fell significantly.
MD of DLF Rental Business, Sriram Khattar, showed bullish sentiments on India's organised retail sector that got badly hit in the last 2 years owing to the pandemic.
He further added that DLF is expanding its retail real estate portfolio that's why it will develop 2 new shopping malls including DLF Mall of India, Gurugram and 4 neighbourhood shopping centers across Delhi-NCR.
Khattar further stated, "We have started the construction of a premium mall in Goa of about 5.75 lac square feet.It will be the best mall of Goa to the standard which our malls are,".
If asked about the total investment plan, then he claimed that it would be around 300-350 cr over the next two years. He said "we are also in the advance stage of planning for our " Mall of India Gurugram comprising 2.5 million square feet area,". Its anticipated that the construction will start by the end of this year.
"So the architects have started doing the designing. We hope to complete it over the next over the next 6 months or so. Since its a very large mall, the planning takes more time".
The project cost of Mall of India, Gurugram would be Rs, 1,500 to Rs1,600 crore, excluding land cost. Asked about how different it would be from Mall of India, Noida. He stated, "With each experience, we have tried to improve upon ourselves. Therfore, from our learning from Noida mall, this will be that much better".
He asserted, "Given with our credibility with the retailers and the trust they repose on us, we do not see an issue in terms of getting the best brands in the country and the world to this mall".
He further stated that "we have started construction of one in DLF-phase 5 Gurgaon, which we are calling Summit Plaza. We are likely to start one in Moti Nagar, Delhi near our DLF-Midtown project. We are also planning one or two more of these."
The high street, DLF phase-5,Gurgaon would be around 3.8 lakh square feet and one in Delhi of 2.2 lakh square feet.
When asked about the plans of entering new cities for the development of malls, Khattar said the company would explore such possibilities in future.
Currently, the company is involved in developing some value added retail components in its IT Park DLF Downtown, Chennai.
Khattar stated that the contribution of the retail portfolio is 18% of its total rental income and 12-13% in its total annuity portfolio.