Residential Sales Attain its Peak in Jan- March for Top 8 Cities in Last 4 Years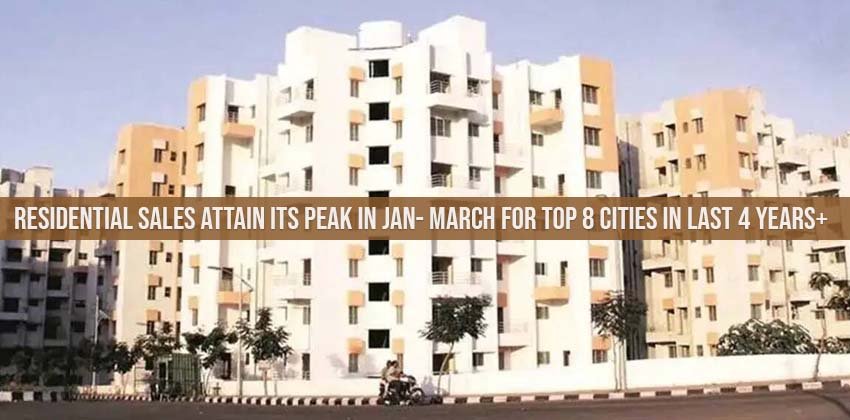 The residential property market saw a surge in sales in top 8 cities despite obstacles created by the pandemic. The Q1 of the new year witnessed a hike of 9% from a year ago while other leading markets witnessed a 1-7% rise in the capital value of residential properties as demand kept increasing, as per Knight Frank Report. The supply of residential property market is equivalent to demand as new launches were 78171 units. Mumbai recorded 21548 units in sales while Delhi-NCR saw growth in sales volume of 123%.
Shishir Baijal CMD, Knight Frank India states, " The growth in residential market has been impressive for the key markets of India over the last few quarters, as a result of a strengthening economy as well as individual financial confidence. Low interest rates, best affordability levels, healthy wage growth and the waning pandemic with lower risk of further disruptions have created a favorable environment for the homebuyers who have rediscovered the need for new and better housing".
As per Baijal, while financial downturn remains a leading factor for real estate developers across markets, consistent home buying activities paved way for gradual price rise and allowed them to tide over rise in prices of cement and steel.
The highest sales was witnessed in the sub-50 lakh category that contributed to 41% sales during the quarter. However, the highest category of 1crore and above witnessed rise in share or sales in this quarter. This category contributed to 25% of all sales which was 18% last year.
Overall, the property market in Mumbai remained largest by value and volume but indicated a slower 9% on year growth. This drop in percentage can be attributed to higher base arising out of stamp duty reduction offered by the state government to incentivize sales during same period last year.
If we talk about the realty market of Mumbau, then in initial part of current quarter the sale diminished due to distractions brought by Omicron however sales increased later as people closed deals prior to first April due to the implementation of metro cess and upward revision in ready reckoner rates (RRR) which will increase cost of property in the city.