Home Buying to Become Costlier, Expect a Hike of 9-15% in Realty Prices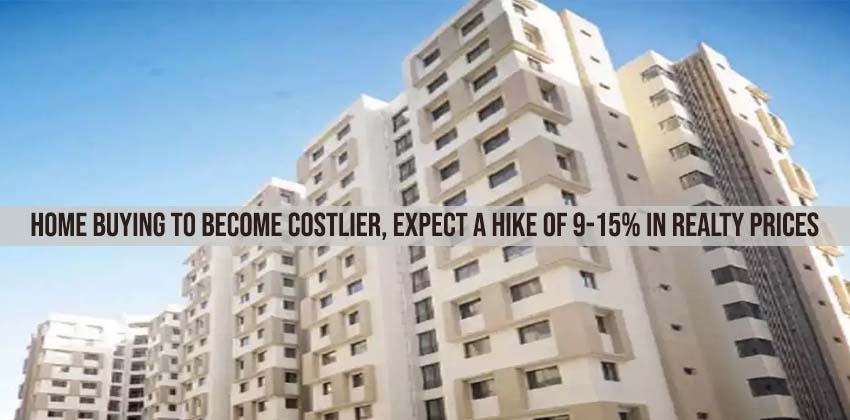 Rising demand coupled with soaring construction costs have led to realty prices going up as developers seek to protect their margins. As per Knight Frank India's report, India's leading real estate markets have witnessed hike in average capital values of residential projects. During the end of quarter in March, all the cities posted YOY growth of 7% in per square feet prices. Bengaluru registered the maximum growth in prices of 7% followed by Pune and Mumbai of 5% and 4% respectively. Hyderabad and Chennai witnessed lowest price rise of 1%. One of the prime reasons of this price hike is rise in cost of prime raw materials from 20 to 70% in the last year.
Cement and Steel cost have gone up by 20% yearly as of March 2022. This rise in cost came at a time when developers were already facing pressure of high debt and liquidity concern over the past years. Since then developers sensed the pain of rising cost and started developing pricing strategies.
 Ramesh Nair, CEO, Asia, Coilers, "With rising material cost, developers will be compelled to increase prices as construction materials account for about 2/3rd share in the total cost of construction.
 Developers have already been operating on this margins over the last few years. The rising cost will impact the developers in the affordable and mid market segments relatively more as they are already operating on low margins. With wholesale price inflation (WPI) and material cost, both seing a double digit rise, the cost of construction can rise by a further 8-9% by December 2022″.
 Realtor body, CREDI-MCHI said, Housing prices could soar up by 10-15% in April owing to sharp rise of Rs.400-Rs.600 per square feet in construction cost with rising inflation in key commodities like cement and steel among others.
 As stated by Dhawal Ajmera, CREDAI MCHI, " We will continue to engage in dialogues with various ministers and concerned authorities to consider our recommendations regarding gradual reduction in steel exports, input tax credits being allowed under GST scheme and tax saving option of section 80B to be extended to affordable housing category".
 In Maharashtra, property prices could go up by 15% due to ready recoker rates declared by state government last week.
If we talk about Ready Recker Rates, then these rates are standard format set by authority that are to be followed. The average ready recoker rates as effective from April 1 has been risen by 8.8% after remaining constant for the last 4 years.