Real Estate to Boost in 2021, Conducive Policies & Economic Stability Play as Major Contributors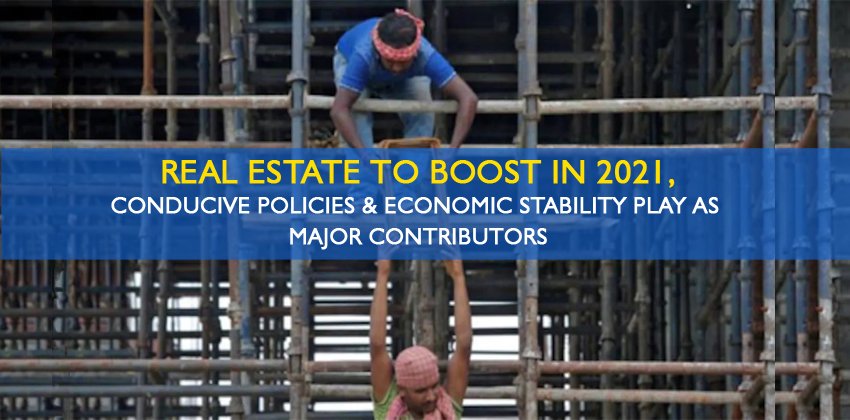 The onset of year 2021 is welcomed by real estate industry experts with positive sentiments and hopes that market will bounce back to pre-COVID levels this year. Credit goes to favourable economic policies framed by government and active government initiatives to invoke demand for real estate. One of the most vital lessons that yr 2020 has taught us is that you need to have your own house in order to survive unprecedented times.
M3M property in Gurgaon has made it easy for house hunters looking around options for Residential Property in Gurgaon. Today, M3M offers 15 residential projects in Gurgaon and 13 lucrative options for Commercial Property in Gurgaon. Some of the popular M3M residential property in Gurgaon include M3M Sierra 68, M3M Natura sector 68, M3M St. Andrews,M3M Polo suites,M3M sky suites, M3M woodshire, M3M  Merlin, M3M Escala, M3M Fairway west, M3M Golf estate and more.
M3M Director, Pankaj Bansal positive opinion states, "We expect that 2021 will see consolidation of the industry in favour of organized developers, leveraging technology to enhance customer experiences and customer-centricity as the key objective of developers. In the commercial segment, the high-street concept has gained momentum as compared to malls and this will continue in the coming year. The residential segment is already on the path to recovery owing to the pent-up demand and the need to invest in well planned, spacious homes amidst extended work from home."
Another realty giant, DLF Ltd. CMO, Mr Karan Kumar'si very positive about quick boost in demand for residential property in Gurgaon. According to him "the demand for exclusive residential properties will likely continue well into 2021. Also, with home-loan rates being all-time low, the demand and inquiries have seen a steep jump, and we expect this to continue even in the next financial year. We see a number of NRIs either moving back to India or looking at investment options here. This will boost the demand for homes starting from mid-segment housing to luxury and super luxury homes,"
Amarjit Bakshi, Chairman & Managing Director, Central Park, is being very hopeful for hike in demand for residential property market, "Housing sales saw a sharp recovery in the seco.nd and third quarter in all top cities compared to the preceding quarter. With this, it is further expected that the sector will exhibit healthy growth in the future. There is an emerging trend of settling into townships due to the availability of a plethora of amenities available to the residents within the vicinity. Integrated urban areas with spaces that are multi-purpose for use will gain more momentum."
Anuj Kumar Garg, Vice President Customer Engagement & Distribution, Viridian RED said, "The prospect of Indian commercial real estate seems resilient in 2021. In the last few months, a couple of transactions led by global firms in the Noida region have strengthened the market sentiments. Noida has emerged as a premium business destination and the announcement of mega infrastructural developments like Film city & Noida international Airport further bodes well for its realty market. Lowest interest rates, NRIs return to India, aggressive policies of UP government, thrust to the manufacturing sectors have boosted the demand of the office space market in the region leading to a South Korean mobile brand & global IT giants company relocating their offices to Noida."
The seeds of positive news can be seen germinating for commercial property market as well. Commercial real estate has witnessed traction in the third quarter of 2020. A JLL report points out that net absorption increased by 63% to 5.4 mn sq. ft in Q3 2020. Since malls have been opened from quite some time now with all safety measures and precautions, customer footfalls are continuously increasing to match pre-COVID level. If you are finding reliable commercial property in Gurgaon, then you can check M3M commercial Property in Gurgaon. Some of the popular M3M commercial projects in Gurgaon include M3M Broadway, M3M Prive, M3M corner walk, M3M 65th Avenue, M3M Urbana Business Park, M3M Skylofts, M3M IFC, M3M MY DEN, M3M Urbana Premium and more.