Unhindered, Unstoppable and Unparalleled, M3M Delivered 8 Projects in 3 Months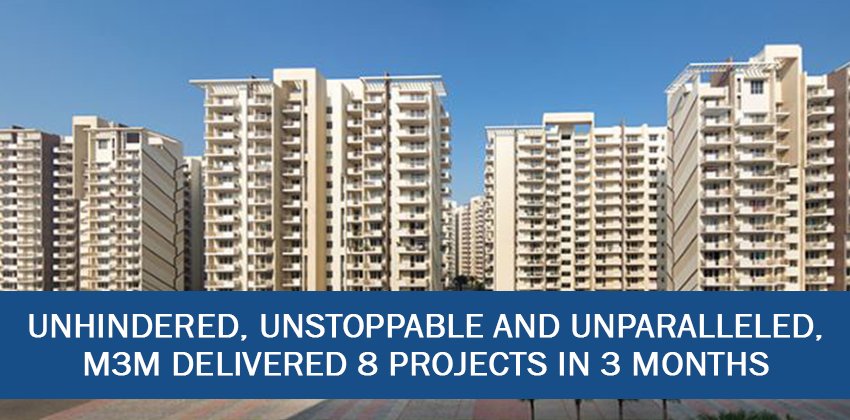 Year 2020 has not been rewarding mainly for businesses like construction and real estate. The pandemic made direct impact on the commencement of real estate work undeniably. With the imposition of lockdown just after the intrusion of corona virus in India, labours started to move back to their towns and consequently the construction work got hauled and deliveries of many real estate projects got postponed. But exceptions always exist! M3M, Gurgaon based renowned real estate developer had delivered 8 projects in 3 months. As per the director of the M3M Gurgaon, Pankaj Bansal, the company made revenue of Rs. 4200 crore in last fiscal and expects 10 percent higher revenue this year than the previous one.
Let's quickly take you through M3M projects in Gurgaon for your better understanding. M3M commercial projects in Gurgaon and residential projects in Gurgaon both are built over 2200 acre of land with 4 crore sq ft developed and development area. Today, the group boasts of having delivered 1.5 crore sq.ft of projects out of which 15 projects are residential projects in Gurgaon and 13 are commercial projects in Gurgaon.
M3M group's ready to move residential projects  in Gurgaon include M3M Sierra 68, M3M Natura sector 68, M3M St. Andrews,M3M Polo suites,M3M sky suites, M3M woodshire, M3M  Merlin, M3M Escala, M3M Fairway west, M3M Golf estate and more.
Let's quickly take you through interesting Q&A round taken from the director of M3M group, Pankaj Bansal.
How has been the sale of M3M projects in Gurgaon during Unlock phases? 
M3M Group has done exceptionally well with the sales number touching to the tune of Rs 1150 crore in July-August 2020 as part of company's 'Unlock Gurugram' campaign. This was stated by Mr.Pankaj Bansal, Director, M3M. The total demand for property has been evenly distributed with both residential projects in Gurgaon and commercial projects in Gurgaon accounting for a 50% share. In the commercial sector which includes offices, retail spaces and some service apartments, 15-20% of the demand was generated from the delivered projects comprising high-street retail. Also, the good news came from the residential segment with the demand rising for under-construction properties. Approximately 450 units were sold in the M3M residential projects in Gurgaon with an average ticket size ranging from 85lakhs to Rs 1.5 crore.  
How did the M3M residential projects in Gurgaon perform post the lockdown? 
The M3M residential projects in Gurgaon performed exceptionally well with the huge demand coming from both the ready to move and under construction projects. The end-users accounted for a major share that generated primarily due to the held back demand in the past 5 months. Going with this flow, M3M Group director expects residential sales will surpass those of commercial projects in Gurgaon by March 2021. All units of M3M Sierra Natura located on Sector 68, Golf Course Road (extension), have been sold out. Approximately 750 out of a total of 1200 units have been sold out in M3M Heights SkyCity located in Sector 65, Golf Course Road (extension). The M3M group expects to sell out the project completely by March 2021. The average unit size in these properties ranges from 1250 to 2450 sq ft. 
How has COVD-19 affected land acquisitions, if any? Have the M3M Group acquired land recently for any of its projects? 
M3M group has acquired a land parcel sprawling 25 acres for 250 -crore deal from Ireo. M3M India was the highest bidder of approx. INR 1000 crores to acquire Vision Towers, an erstwhile project by Religare located along the Golf Course Road (extn).