M3M India Acquires Two Land Parcels Worth Rs. 670 Crore In The Key Locations Of Gurgaon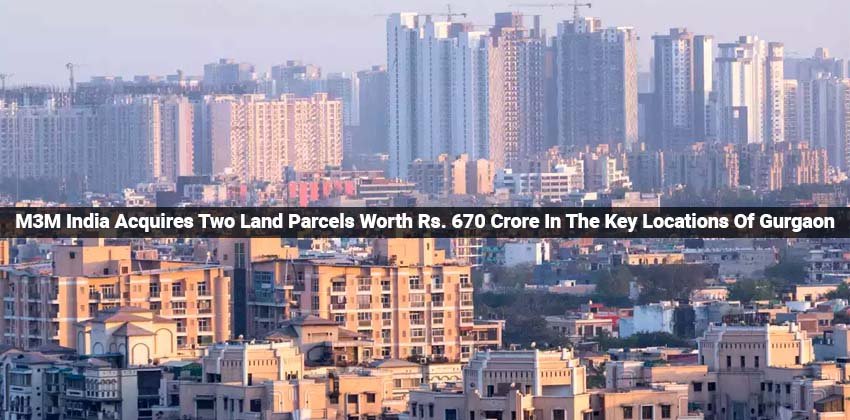 M3M India, one of the largest realty developers has recently acquired two land parcels worth Rs. 670 crore in the prime areas of Gurgaon. These land parcels were acquired through the auction held by Haryana Shahari Vikas Pradhikaran (HSVP).
Out of the two plots, one is along the golf course road measuring 3 acres which is planned to be constructed into a 600,000 sq ft retail and office complex. On the other hand, the second land is purchased on the MG Road measuring 1.3 aces. Plans are being developed to turn this land parcel into a retail complex of over 180,000 sq. ft.
Mr. Pankaj Bansal, director of M3M has said that "The Company is planning to start these projects very soon in this coming year and is looking forward for much more such government auctions to acquire more land parcels. The company aims to develop many retail destinations in the centre of Gurgaon."  
The construction of these projects will cost around Rs. 400 crore. The top line of the Golf Course Road project is Rs 2,000 crore, while for MG Road it is Rs 650 crore. The company is actively seeking land parcels in Gurgaon. Last year, the company acquired two land parcels in the sector 57 of gurgaon region which is planned to be developed in the direction of creating a retail space of area 800,000 sq ft with an investment of Rs 530 crore. The 1.5 and 3.5 acre plots in Sector 57 are on the main road. The company is planning to develop high-streets in these areas as the demand for open markets has increased after the Covid-19 pandemic.
Total of 39 projects have been delivered by M3M India and 3.9 million sq. ft. of retail space is developed at the Golf Course Extension road making the company, largest retail space developer in Gurgaon. The company boasts of association of more than 200 brands with itself.  M3M has reported Rs. 6,100 crore of sales in FY22 and expects to reach Rs 10,000 crore this year.