House hunting in Gurgaon? New Gurgaon is the ideal realty Destination to book your home in 2021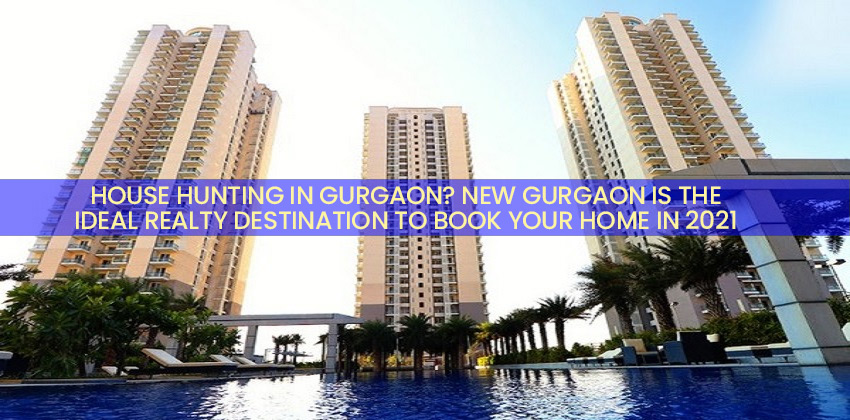 Gurgaon has always remained a preferred real estate destination in the NCR for its ultramodern elements that makes it a global city. Gurgaon has attracted several business giants, entrepreneur, and industry ex-pats, leaders owing to the presence of international business centers, IT parks, and skyline spread with premium residential spaces. Rising buyer's demand has put a domino impact on Gurgaon's micro market which has lead to the emergence of New Gurgaon. It is considered as more planned city and offers ample growth opportunities. New Gurgaon offers wealth of options to buy property in Gurgaon.
New Gurgaon's close proximity to Delhi, IGI airport, Huda City Centre metro station, New Delhi railway station, and brilliant connectivity to Golf Course Extension Road, Gurgaon-Sohna Road as well as NH-8, Southern Peripheral Road, Multi-Utility Corridor, Central Peripheral Road, SPR Extn. Road and KMP Expressway, among others, make it an ideal place for buying home. Haryana Chief Minister has recently made an announcement that the shifting of Kherki Daula Toll will shift within 6 months along with other infrastructure projects which will attract developers to build more projects in the region. If you are house hunting around Luxury property in Dwarka Expressway Gurgaon, then you can choose from several projects including Sobha International city, Central Park Bellavista Towers, Sun city platinum towers, Tribeca Trump tower, DLF The Crest and more.
As stated by Karan Kumar, CMO, DLF Ltd, "Infrastructure development has positively impacted the demand for quality real estate in New Gurgaon. The combined advantages of a strategic location, better-planned physical and social infrastructure and competitive pricing has made New Gurgaon one of the most sought after and rapidly developing micro-market in the region. Recent announcements by Haryana CM on metro rail connectivity in Manesar, the upcoming Rapid Rail, and the shifting of the Kherki Daula toll besides the emergence of SPR, KMP Expressway, Dwarka Expressway, and the upcoming cloverleaf flyover will supplement the growth of this micro-market. Seamless connectivity with other areas of Gurgaon, New Delhi, and peripheral regions have made New Gurgaon an ideal choice for end-users and investors alike,".
New Gurgaon is located in foothills of the majestic Aravalli hills and provides lush green, exquisite water bodies and flora. If you are searching Luxury property in New Gurgaon, then you must be glad to know that the region has approximately 110,000+ residential dwellings which are either going to be completed soon or are already complete.
As said by President, Vatika Business Centre "New Gurgaon is emerging as a realty hotspot in Delhi-NCR due to the complete ecosystem of projects it offers like retail, residential and commercial. With diversified industries not limited to hospitality, healthcare, retail, banking, education, and many others joining the bandwagon, makes it more attractive for potential investors.
Vatika Group, which holds the largest chunk of real estate offerings here in New Gurgaon, has also relocated all its verticals occupying 1 lakh sq. ft., campus-style, office which is a part of 1 million sq. ft. of ready-to-move-in commercial and retail space INXT has in the offering, in lines with its vision to be a part of New Gurgaon's growth story. We have already delivered around 10,000 residential units in the entire region and are likely to deliver an additional 2,000 units soon. In addition to this, we would soon be launching our Business Centres, Managed Office Spaces and Sub-leased fitted-out spaces in Vatika INXT."