Dwarka Expressway, a New Dawn to Realty Market in New Gurgaon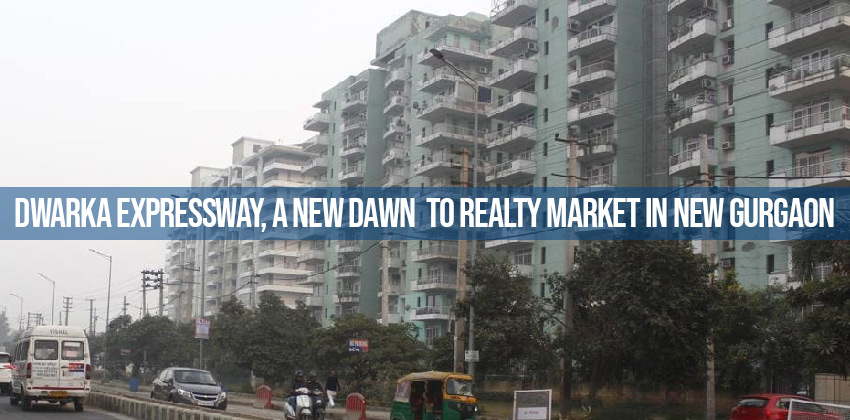 The inauguration of the first urban expressway is expected to improve connectivity by 2022
New Gurgaon has come out as the new realty sensation in past few years due to its strategic connectivity and brilliant infrastructural developments. It is anticipated that the connectivity is bound to go high with the inauguration of the first urban expressway, Dwarka expressway in 2022. This expressway stretch of 29 kms connects Delhi, Dwarka, and Gurgaon. The project is being built in four packages from which 18.9-kilometre is in Haryana and the remaining 10.1-kilometre is in Delhi. The expressway stretch originates from Shiv Murti on National Highway-8 and terminates at Kherki Daula Toll Plaza.
The National highway 8 currently carries nearly three lakh passengers almost daily. The commissioning of this expressway is expected to divert 60% of traffic from NH-8 which will reduce congestion and minimize air pollution. Also, this project is expected to generate around 50,000 direct and induced employment opportunities. If you are planning to buy property in Gurgaon, then you must consider property options available on Dwarka expressway Gurgaon.
If you are high on budget, then you can consider exploring Luxury property in Dwarka Expressway Gurgaon. Some of the popular luxury projects in Dwarka expressway include Godrej Prive, Krisumi waterfall residences, Shapoorji Pallonji Joyville Gurgaon, Krisumi waterfall residences, Godrej Meridien, Sobha City, Hero Homes Gurgaon, Godrej Icon, Emaar Gurgaon Greens, Conscient Heritage Max, and more. The demand for acquiring Property in Gurgaon has risen despite the adverse impact of pandemic worldwide. The blooming infrastructure, ever green employment opportunities, strengthening transportation systems, and easy road connectivity makes Gurgaon an ideal place for living. Moreover, the inauguration of a cloverleaf interchange at the Central Peripheral Road (CPR) and Southern Peripheral Road (SPR) intersection will allow traffic to seamlessly move between the SPR and Dwarka Expressway bypassing the Delhi-Gurugram Expressway (NH-48). Developers are of a view that the project will have cascading effect on real estate in Gurgaon, Delhi and regions nearby thereby escalating prices of property in Gurgaon.
As per the Co-CED and director of the luxury property in Dwarka expressway way, Takahiro Yamazaki, "Krisumi Corporation", India, "Real estate value has been directly impacted by the infrastructure development. When work on Dwarka Expressway took off, the real estate market of Gurgaon entered a new phase. Since then it has been one of the most preferred residential destinations of NCR and continues to attract interest from both investors and end-users alike. We expect that the recent visit of Hon'ble Minister Shri Nitin Gadkari, to overview the progress of the Dwarka Expressway will bring confidence for completion of the construction work,"
Pankaj Bansal, Director, M3M, says "Dwarka Expressway continues to be one of the major residential destinations in the Delhi-NCR. Located between the crossroads of Delhi and Gurgaon, Dwarka Expressway has emerged as the realty hotspot in Delhi-NCR. Its strategic location and excellent connectivity has made it a preferred destination for homebuyers. Due to its seamless connectivity from IGI, the location boasts of hassle free travel. Moreover, it is connected to Southern Peripheral Road, National Highway 8 and there onto areas of New Delhi. Several educational institutions, shopping complexes and hospitals are also located in the region boosting the social infrastructure. Hence the area is home to several world-class projects,"