Real estate Major, M3M Group has Repaid Rs 418 Crore Debt in Q4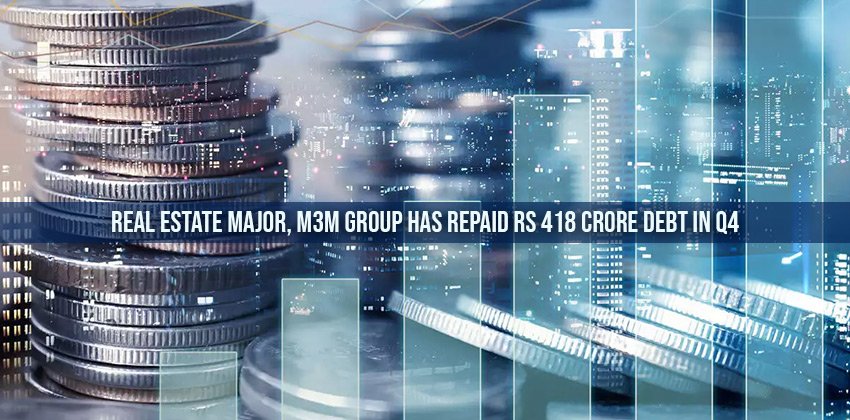 M3M Group Gurgaon is known for delivering realty masterpieces that are widely acknowledged for robust construction quality and world class architecture. Today, it boasts 18 premium residential projects in Gurgaon and 16 lucrative commercial projects in Gurgaon. The real estate giant has recently repaid Rs 418 crore in Q4 of FY 2020 – 2021 against the targeted amount of Rs 200 crore, as confirmed by its director Pankaj Bansal. M3M Group Gurgaon has already cleared debt worth Rs 500 crore by December 2020 and plans to clear the balance liabilities by March 2022.
M3M group owns over 2,200 acres of land in the National Capital Region (NCR) which is currently developing 25 million sqft of projects with construction expenditure of Rs 4,500 crore. The group has already delivered 12 project s in 8 months and by lowering the burden on operational cash flow, M3M Group Gurgaon will streamline its efforts to deliver unmatched experiences to customers. Whether you talk about residential projects in Gurgaon or commercial projects in Gurgaon, M3M Group exude world class craftsmanship and innovation in each project with the promise of on time delivery every time.
As per Mr. Pankaj Bansal, Director, M3M, it has been confirmed that "the facilities of Indian bank amounting to Rs 51 crore was fully paid during this quarter. M3M has also reduced loan of SBI by Rs 104 crore, PNB Rs 53 crore, ICICI bank NSE -0.12 % Rs 50 crore, Oak Tree by Rs 102 crore, Indiabulls by Rs 50 crore and Rs 8 crores of others,".
After applying the new strategy of retiring debts, the present outstanding of the group borrowing stands reduced to around Rs 1280 crores excluding acquisition funding awaited during the quarter. M3M group Gurgaon holds sales receivables of worth Rs 6050 crores with an inventory totaling Rs 6250 crores which includes Rs 1300 crores of luxury residential project, Trump Tower, another big project which is being developed by M3M Group in Gurugram.
Pankaj Bansal, Director, says "Our growth story is propelled by our trademark enthusiasm and perseverance. Despite market upheavals, we understood buyers' sentiments and launched innovative campaigns like 'Unlock Gurugram and 'Port Your Property' to grow strength-to-strength. Fresh acquisition funding and construction funding of subsequent launches will continue to remain and will pave the way forward for the next phase of the growth trajectory,".