Hero Realty Is Going To Develop a 2 mn sq ft project in Gurugram With An Aim Of Additional rs 2000 cr Topline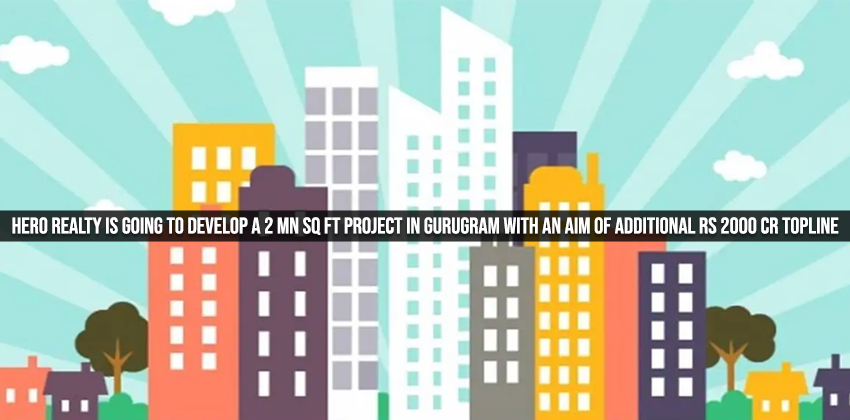 Sunil Kant Maunjal's Hero Enterprise promotes Hero Realty Pvt Ltd, which has recently announced a joint venture with Saheb Enterprise to develop an approx 2 million sq. ft project in Guruhram's 104 sectors, along with the Dwarka Expressway.  HRPL is riding high on the recent record and aims at an additional rs 2000 cr* in the topline from this venture alone.    
Dharmesh Shah, CEO, Hero Realty Pvt. Ltd has recently announced a joint venture with Hero Realty. He also mentions that this is another landmark step by Hero Realty in strengthening our footprint in key regions. In fact, the JVJD model is going to drive our expansion primarily in and around the Delhi NCR region. The project is going to strengthen sales in the current financial year and set the foundation for a significant increase in the market shares and the top line. 
Digvijay Singh and Lavanya Singh Dinodia, the promoter of Saheb Enterprise commented that the organization is extremely delighted to partner with such an iconic brand like Hero Realty and they believe that this venture is going to offer the best category of real estate to consumers in the region of Delhi NCR. 
Now the company has received the coveted CARE A+; a stable rating by CARE, thus becoming the first real estate company in Delhi NCR to have this recognition and distinction.
This new land is located on Dwarka Expressway in sector 104, Gurugram. This will also have multiple projects, including residential and commercial complexes. The venture is going to strengthen the bond HRPL'sL position in the region. Sector 104, Gurugram is fast emerging as an attractive investment opportunity given its unique locational advantages of being alongside the prestigious Dwarka Expressway.