30% Hikes in Circle, Registries to Get Costli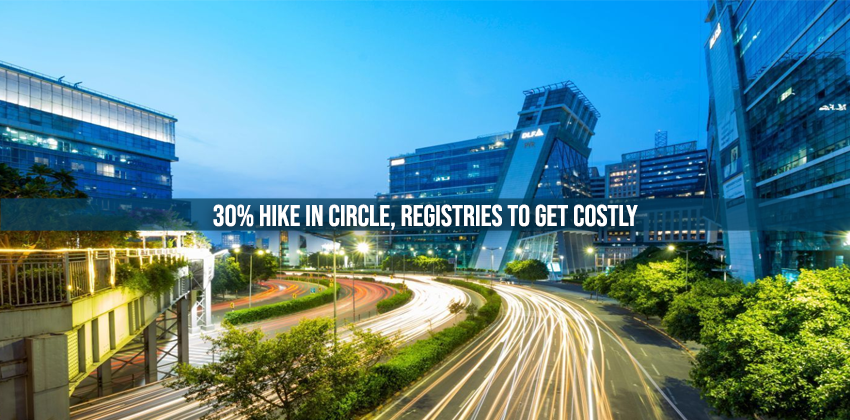 Now, the registry of properties in Gurugram is set to get hyped as the Haryana government has finally decided to hike circle rates by up to 30% across the district. 
Tons of real estate experts commented that the hike in the circle rate has no impact on the price of the premium luxury segment. Rather, it will make the registry of the properties mostly. Now, the homebuyers say the hike in circle rates is going to put an extra burden on the pocket of the common public as they will have to give the higher stamp duty with the revised circle rates.
You might be wondering what the circle rate is. A circle rate is a minimum value set by the government for the sale and transfer of a house, plot, flat or commercial establishment. The government has issued a stamp duty on the transfer of properties, which is one of the major sources of revenue for the state government. 
According to the district administration, the circle rates have been hiked between 10 percent to 30 percent across the district, this completely depends on the area. As a matter of fact, the circle rates in commercial areas have also increased by 10%. 
Now, the homebuyers have opposed this move and said that move is in the interests of homebuyers. 
Tiwari told Moneycontrol that the land rates are already high in Gurugram and the increase in the circle rate will ensure that the people have to pay extra money while registering or transferring their properties. There will be an extra burden on the common public. 
Another homebuyer and resident of sector 43, Sunaina Tiwari also said that the circle rate in sector 43 has been increased by around 20 percent, which will also translate into more stamp duty for prospective buyers to pay. The common public is all set to get troubled by a hike in inflation and this increase in circle rates will be another blow to future buyers. 
Agrawal said the hike in circle rates in the current scenario would be as impactful as the increase in circle rates. Now, buyers will not invest in any property in the short term and might have to hold off on a decision for now. Any decision to raise the circle rate will undermine the recovery process and it has a detrimental influence on the real-estate sector. 
CEO of India Sotheby's International Realty, Amit Goyal said the Haryana government's proactive decision is going to enhance the circle rate in Haryana, especially in Gurugram. However, all state governments at least consider any alternative long-term solutions to reduce dependence on the circle rate. Goyal recommended that all property translation values should be available online on the revenue department's website.