Gurugram Becomes the Lucrative Hotbed for Commercial Investment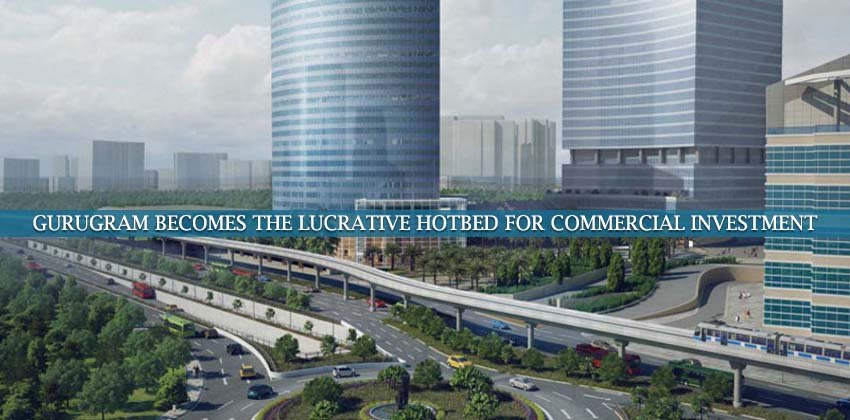 Delhi-NCR has come out to become India's real estate hotspot because of rapidly expanding start-ups and multinational corporations. Day by day increase in leasing activity in the region's commercial real estate market has emerged as the positive trend. Furthermore, the retail sector in Delhi NCR experienced a strong recovery in Q2 2022. New leases and store openings sparked the recovery, as did footfalls returning to pre-COVID levels at upscale malls.
Furthermore, multinational corporations are looking to establish their offices in India, particularly in Delhi-NCR. According to a report published in 2021, commercial offices are expected to occupy approximately 10 million square feet over the next three years, providing a significant boost to real estate investors. The expansion trend is more visible in Gurugram, where the commercial real estate market is seeing increased investment from prestigious investors and industry titans. Commercial property investment in Gurugram has long been recognized as one of the most effective methods of diversifying a portfolio and increasing returns.
A Promising Real Estate Hub
Gurugram is one of India's best cities for living and working. Both international and Indian investors are drawn to the city. The city has a diverse range of commercial properties, ranging from small convenience stores to iconic office towers and industrial parks. Gurugram began as a call-center hub, but it is now known as a millennium city, hosting numerous global corporations. Furthermore, Gurugram has a plethora of options for business investment, making it a dream destination for investors.
A Well-Connected City
The proximity of Gurugram to the Indira Gandhi International Airport has aided the city's steadily rising commercial real estate market. In addition, the city benefits from its proximity to railways, airports, and highways. Its well-connected network, which includes the Delhi Metro and Rapid Metro, also makes it a desirable commercial destination.
A Thriving Commercial Destination
Several modern and stunning structures have been built by prominent real estate developers in Gurugram. These commercial properties offer technologically advanced features and security measures, in addition to international architecture and modern and elegant amenities. Furthermore, these properties have large storefronts and plenty of open space for all retail units. Investing in urban and semi-urban properties is a significant source of profit for Gurgaon's new generation of realtors. Furthermore, the increasing popularity of shopping malls and retail spaces has prompted investors to invest in Gurugram's retail and commercial spaces, particularly shopping malls.
Millennials and Gen Z's prefer to spend evenings and weekends shopping at luxury stores or dining at fine dining restaurants, attracting investors to Gurugram's retail centers.
Conclusion:
Commercial real estate is expanding in Gurugram due tofavorable market sentiment and promising appreciation prospects in the city's emerging micro-markets. Furthermore, Gurugram's growing Millennial population is driving demand for high-end retail spaces focused on holistic shopping and entertainment experiences. Given the foregoing, it appears logical to conclude that now is an excellent time for investors to invest in Gurugram's commercial real estate. Gurugram is poised to become a goldmine for new-age investors due to its proximity to other parts of the city and the presence of big brands, corporate headquarters, and other amenities.