Dwarka Expressway Is Going To Increase The Property Price By Up To 40% In The Region, Say Experts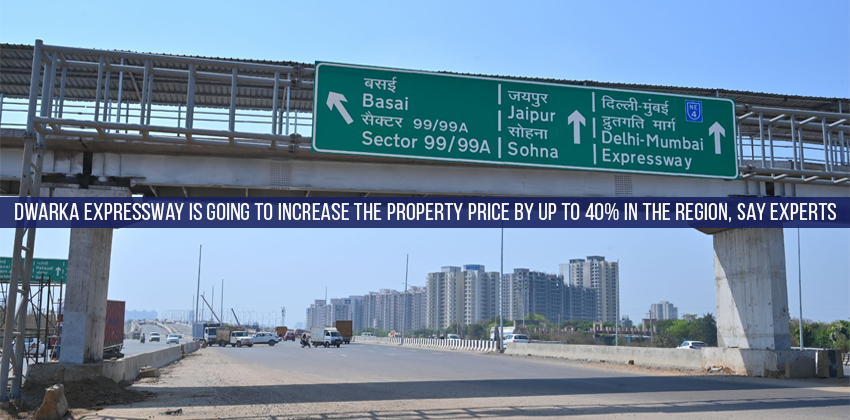 The opening of Dwarka Expressway in Gurgaon is expected to increase the price of real estate in the region by 30-40%. 
The growing demand in the area has prompted various developers to launch their projects along the expressway, gearing up property prices. 
Vivek Singhal, CEO of Smartworld Developers said that the completion of Dwarka Expressway is expected to significantly impact the real estate market in Gurugram, demand and price escalation. The Dwarka Expressway inauguration will offer seamless interstate connectivity between Delhi, Gurgaon, and Manesar regions. It will trigger a positive response for the construction project in the area. 
The price of these properties in this area is going to appreciate at the current levels of 20-40%. Even the Smartworld Developers are going to launch its new project, Smartworld One DXP at sector 113. 
Kunal Rishi, COO, of Paras Buildtech, said that the expressway will bring a significant transformation to the residential and commercial real estate markets. It is also expected to see 30-40% growth in property prices and it will also drive economic growth. This results in significant growth for the real estate sector. The upcoming event is unlikely to be an opportunity for property investors who are looking to maximize their return. The expressway is expected to unlock the potential of the swiftly growing locale. 
Paras Buildtech has launched Paras Arcade 114 which is a commercial SCO plot at sector 114, Dwarka Expressway. The completion of the Dwarka Expressway is now expected to have a positive effect on the overall real estate market in the region. 
Executive Director of Trehan Iris, Aman Trehan said the Dwarka Expressway is one of the most promising realty corridors in Gurugram. It also enhances the connectivity quotient of the city while opening the expressway. This will also bring a significant impact on the realty market of Gurugram. 
In fact, the housing market of Gurugram has seen a significant price appreciation of approximately 13 percent in the last year. Commercial leasing across the office and retail space are also picking up with healthy demand while giving an excellent return on investments and higher rental yields. 
The Dwarka Expressway is also expected to give benefits to the real estate industry in this area, and also the overall economy of the region. The significant improvement in connectivity is going to attract more businesses to the area while leading to mind-blowing job creation and an overall boost to the economy. 
Pradeep Aggarwal, Founder & Chairman of Signature Global said that the consequent improvement in connectivity between Gurugram and Delhi is likely to get broadcasted to generate a surge in demand for properties in the area. The development of the expressway is also anticipated to attract more investors and homebuyers, making Gurugram an even more desirable location for professionals