Gurugram's Property Market is All Ready With New Cloverleaf Intersection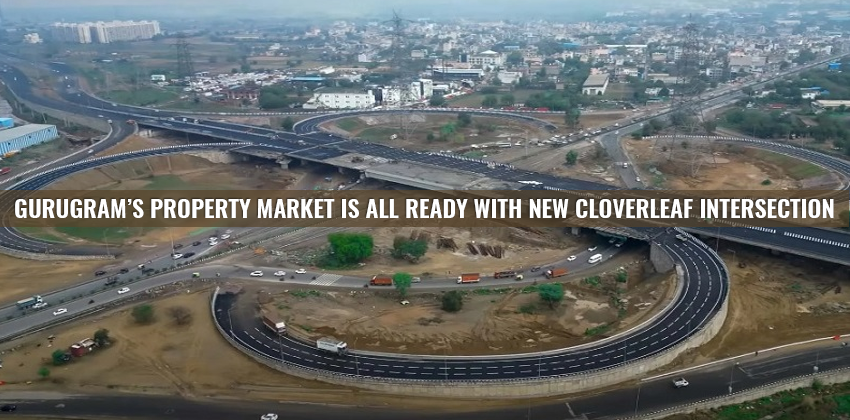 Cloverleaf Intersection – the much-awaited intersection at the Dwarka Expressway is reportedly in the final stage of construction. It is also expected to be inaugurated soon by Nitin Gadkari. The Union Road Transport and Highways Minister. This intersection is located near the Kheriki Daula toll plaza. This will also boost ramps on all four sides. This will also serve as a crucial link between the Northern Peripheral Road (NPR) or the Dwarka Expressway, the Southern Peripheral Road (SPR), and National Highway-48. 
With its completion, residents of the newly developed sectors in Gurgaon will have easier access to NH-8, without having to travel all the way to Kherki Daula toll plaza. Residents can use the SPR side of the Dwarka Expressway to take the cloverleaf ramp and head towards Manesar or loop around to reach Delhi. 
Smartworld Developers, CEO, Vivek Singhal commented, " Dwarka Expressway is going to be poised and it will build the finest infrastructure stories that India has witnessed. After the development, it is going to increase the accessibility to world-class facilities and amenities for the micro-markets of West Delhi and Dwarka. The completion of the Dwarka Expressway is expected to give a significant impact on the real estate industry in Gurgaon, demand, and price escalation. 
The inauguration of the expressway will give a seamless interstate connectivity between Delhi, Gurgaon, and Manesar regions, thereby giving a positive response to construction projects in the area. This also offers a convenient and time-saving alternative to residents to access NH-8 as opposed to the present situation of having to navigate through the busy Kherki Daula toll. 
The remarkable feat of engineering is for the daily commuters in Gurugram but also for the entire nation, given its impressive size, while making it one of the largest road structures in India. The innovative four-way loops are connecting NH-48, Southern Peripheral Road, and Dwarka Expressway. The intersection will reduce traffic congestion but also it promotes seamless and efficient travel. It will also unlock new opportunities for growth and development of Dwarka Expressway and New Gurgaon, especially in sectors 70-85. 
In fact, the proposed route is a quite crucial artery that connects several significant areas, including Delhi Airport, Delhi-Mumbai Expressway, Delhi-Gurgaon Expressway, Southern Peripheral Road, and others. The implementation of this upgrade, by commuting the residents, is expected to become less cumbersome, while resulting in a seamless and more comfortable experience.