Delhi NCR Touches 10 Years of Home Sales: Flats rates upwards of rs 1 crore in demand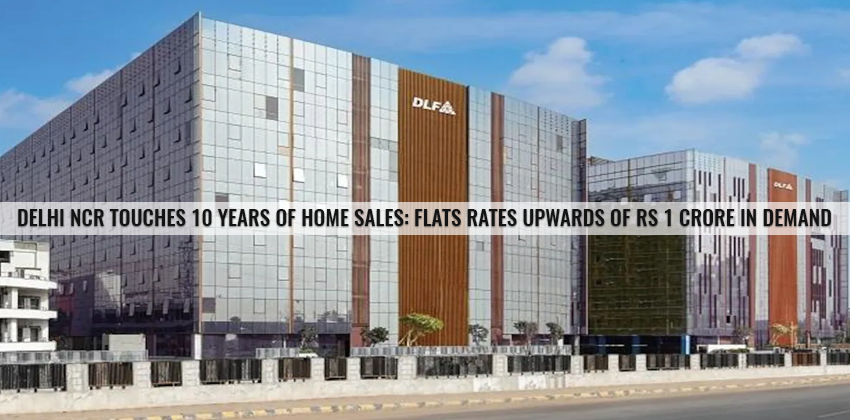 Residential sales in Delhi NCR touched a 10-year high in the first half of 2023 at 30,114 units. Out of which, Gurugram has accounted for more than half the units sold with 52% shares, according to the report by real estate consultancy firm Knight Frank India. 
When it comes to Noida and Greater Noida, it has cumulatively accounted for a 32 percent share of the total pie. Out of which Ghaziabad has accounted for 12% share whereas, Delhi and Faridabad for 2% share each. 
When the previous sales high of H2 2022, it has been possible due to two primary reasons. A pause in the repo rate hike cycle in 2023 came to relief to homebuyers and new inventory came to the market that has been well-received by interested buyers. 
Due to the lack of ready-to-move-in inventory by popular developers. So, whenever the new inventory introduced by any of such developers has found takers in the market. It comes out of the shadow of the pandemic. After the pandemic buyers' confidence in the timely delivery of new projects has been reinstalled to some extent. These factors have contributed to making H1 2023. In fact, the strongest half-yearly period since H1 2013, said Executive Director at Knight Frank, Balbirsingh Khalsa. 
These developers even continued to launch their new projects to meet the need of latent homebuying demand. Many of these developments have simultaneously intensified efforts for the new land acquisitions in preparing for a feature pipeline of projects which is going to meet the demand of new-age home buyers. 
The share of these residential homes that cost upwards of Rs 1 crore in the total sales volumes has surged in NCR, since the second half of 2021, from 37 percent in the first half of 2021. The share of this category has expanded to 41 percent in the first half of 2022. In the second half of 2022, the ticket size category comprises half of the region's total sales volume before rising to 65% in H1 2023. 
In the upcoming NCR quarter, where you can witness a remarkable 10-year high in home sales, the surging demand for apartments is priced above Rs 1 crore. The immense growth potential and profitability are within the real estate sector. This robust momentum has also served as a catalyst for developers to explore innovative design. This has also embraced sustainable practices and also pushed the boundaries of development, said the COO, of Paras Buildtech, Kunal Rishi. 
The ownership of spacious and independent homes by high-net-worth individuals and affluent families is driven by the homebuying press for this ticket-size category. In the rs 50 lakhs to rs 1 crore category, the percentage share in the total share volume has declined from 33% in the first half of 2022 to 22% in the first half of 2023. When it comes to products priced less than Rs 50 lakh and the percentage share has shrunk from 25% to 13% in the same period. 
Since the second half of 2019, Gurugram's share in NCR's total sales volume has only expanded with each half-yearly period. From a 12% share in H2 2019, Gurugram's share has also grown to 52% in H1 2023. Many new launches in multiple formats including independent floors, gated plotted developments, and high-rise apartment projects from trustworthy investors who have ensured healthy sales velocity in its various locations, noted by the reports. 
Gurugram's high-rise living resonates well with both first-generation and second-generation homebuyers looking for a lifestyle upgrade. This trend has only picked up post the pandemic outbreak. Location connectivity between the main areas of Gurugram and its developing peripherals is being enhanced continually to support its real estate boom, commented  Shishir Baijal, Chairman and Managing Director at Knight Frank India. 
With a mere 19% share in H1 2021, Gurugram shares a dwelling to 82% in the current review period as there are tons of projects that have been launched in the developing peripherals. The robust homebuying demand supported by enhanced connectivity has been instrumental in developers taking exposure on Golf Course Extension Road, New Gurugram, and Dwarka Expressway. In H1 2023, the new residential launches took place in sectors 63, 53, 76, 77, 79, Badshahpur, 37D, 93, 103, and 11. 
Vivek Singhal, CEO of Smartworld Developers, said that the robust surge in home sales in the NCR reached a remarkable 10-year high. It is also a testament to the resilience and vibrancy of the real estate market in this region. This escalating demand for flats valued upwards of rs 1 crore further emphasizes the evolving aspirations and purchasing capacity of buyers in NCR. 
Many real estate developers in NCR have been acquiring land through outright purchases and also giving up with landowners to develop new residential projects as the homebuyer demand has been higher than the pre-pandemic peak of 2019 but has grown manifold. 
Moreover, the multiple upcoming infrastructure upgrades such as Dwarka Expressway, the Delhi-Mumbai Expressway, and the Gurgaon metro from HUDA City Centre to Cyber City are expected to fuel the growth of the real estate sector in NCR and boost demand in the coming years. 
In the last few years, developers have redirected their focus back to Delhi's real estate market. Now home buyers desire to build a well-planned community living, with an environment that promises comfort, privacy, and security. The vast open spaces, walking areas, and green vistas within the complex. It also comes with well-connected neighborhoods with every urban amenity close by, which are some of the demands that Delhiities are yearning for while investing in a new home.