Dwarka Expressway Becoming the NCR's Most Sought-After Micro Market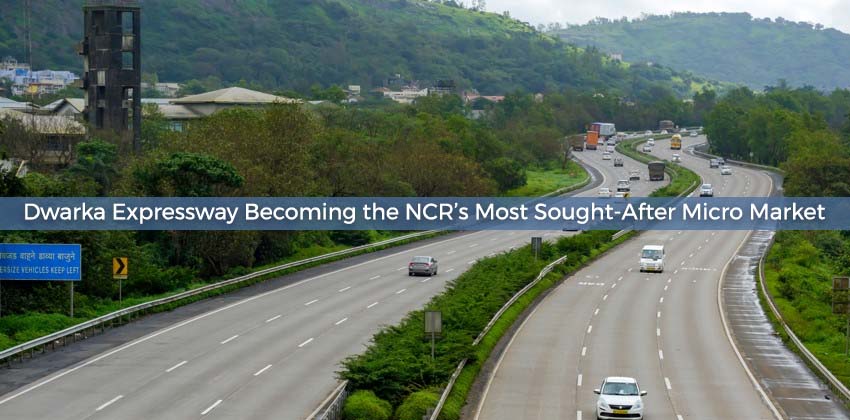 Dwarka Expressway has seen it all, from being the hub of Gurugram's real estate market to being one of the slowest and unpredictable marketplaces, with a profusion of projects and fortunes until only a few years ago. The Northern Peripheral Road which is the primary driver of the micro market, is being built at a good rate on the one hand, while on the other hand, due to persistently low capital values, the micro market offers a far superior value proposition in the context of Gurugram.
The Dwarka Expressway, which is 29 km long, has 8 lanes, and is 150 metres wide. Its purpose is to increase connection between Delhi, Gurugram, and Manesar. The highway is still being built because problems with land acquisition throughout the years have slowed down its construction process. The project is likely to be finished shortly, yet the uncertainty may dissipate given more recent market events. Residential real estate activity in this area is projected to pick up even more once the expressway is finished and fully functional. More than 25,000 residential real estate units have been launched in the area during the last six years, with Dwarka Expressway accounting for 27% of Gurugram's total supply during this time.Nitin Gadkari, the Union Minister for Road Transport and Highways, has announced that the Dwarka Expressway, which is being built as India's first elevated urban expressway, will open to traffic in 2023. This has given the development of this area even more momentum.
One of the best infrastructural success stories for NCR towitness will be of "Dwarka Expressway". A cutting-edge commercial, transportation, and recreation hub is being built by the government next to Gurgaon's Sector 113 and Sector 111. These projects would make it easier for West Delhi and Dwarka's micro markets to access top-notch services and facilities. This will be the most profitable micro-market from an investment and end-use viewpoint, according to projections for future growth.
Dwarka Expressway will drastically lessen traffic on Delhi-Gurugram Expressway once it is operational. Additionally, the improved traffic flow will relieve Sohna Road and Golf Course Road. Recently, the real estate market along the Dwarka Expressway and in the neighborhood has experienced significant growth. The direct connectivity of the expressway to the industrial areas in Manesar, Gurgaon, Dharuhera, and Bhiwadi would affect the demand for real estate in the region.
With increased urbanization and commercialization in and around Dwarka, residential demand is also expected to increase. In reality, the region already experienced a value appropriation between 2015 and 2018 at a CAGR of about 4%, and it has been expanding ever since.