Budget 2022 I Real estate to witness increased capital outlay, FDI Inflow, & Tax exemption, say experts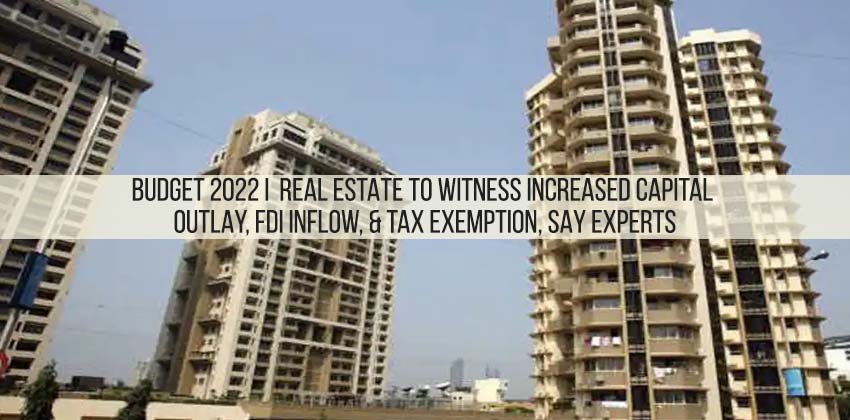 Honorable Finance Minister, Nirmala Sitharaman and her team is all decked up to present the Union Budget 2022 in February. Considering the rising COVID-19 cases due to the new Omicron variant, economic recovery may once again take a back seat. As many states are imposing lockdowns to control the spread, Real estate sector is hopeful of the government to increase capital outlay so that the momentum can be offered to the economy.
Key offerings like relaxations in taxes and rise in FDI Inflow are expected from Union Budget 2022 to boost the real estate sector.  However, CII President, TV Narendran expects that the government should focus on offering a boost to investment and infrastructure instead of introducing new measures every year.
To support his opinion, he added, "I think if we execute what we said we would in the previous years, it would be great progress. If I were to bucket our recommendations — one is to continue with the government focus on infrastructure and investments because that helps create demand, jobs, and helps drive competitiveness,".
If we go by Grant Thorton Bharat's Partner Lead Advisory's, Sumeet Abrol's opinion, then the robust banking system is the perfect platform for the Budget to present a strategic roadmap for the next decade.
He added, " As the largest employer, after agriculture, having a profound multiplier effect owing to deep linkages with both core and informal sectors, the real estate sector is in a unique position after perhaps a decade. Falling housing inventory levels and a much healthier banking system are the perfect platforms for the budget to anchor a strategic roadmap for the next decade,".
He further said, "A multi-dimensional approach focused on availability of improved & low cost credit, through priority sector lending categorisation of home loans, forward looking FDI regime which allows foreign investment in completed housing & rental housing, and inclusive participation in the start-up ecosystem through a dedicated fund focused on real estate innovations and digitization could go a long way in making the sector future ready,".
Real estate experts believe that the Budget 2022 will focus on providing a push to affordable housing and rental housing along with strengthening the current financing system by offering liquidity to halted Real estate projects.