Most Demanding Real Estate Projects of 2021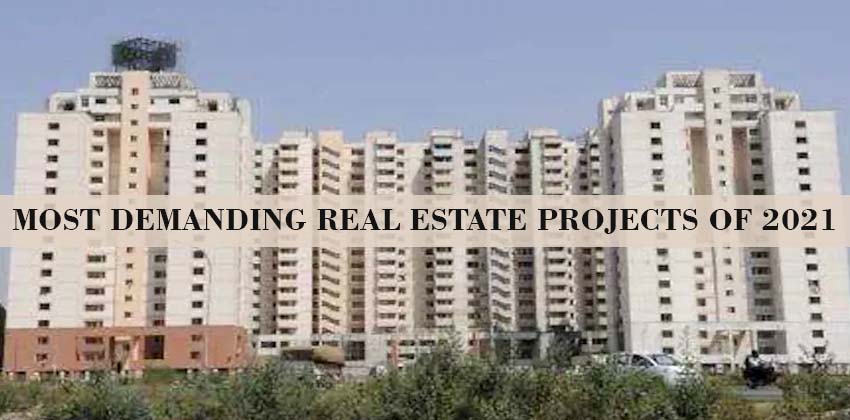 As per Delhi based research firm, IBRF, the list of top 10 most liked projects of 2021 include Gaurs group, ABA Group, Gulshan, Migsun, Signature Global, MRG World, Raheja Developers, Sushma Group, Whiteland Corporation, and Central Park. Here we are going to give a quick glimpse of some of these projects.
Central Park Flower Valley
Nestled amidst lush green flora and Aravalli hills, Central Park Flower Valley offers perfect escape from the chaos of the city. It is located in sector 32-33 on main Gurgaon Sohna Road.The project is beautifully designed with wide roads covering European styled street lamps. The luxurious residential project offers floors, villas, Group housing and plots. This premium Global township offers horse mounted patrolling and multi tier security system with trained guards. It's common to find exquisite flora and water bodies in the campus which makes this project even more elite.
Leela Skyvillas by Raheja Developers
Central Delhi based project, Leela skyvillas constitute as the tallest planned tower of Delhi wherein you will find 4 and 5bhk villas laced with a private lap pool. This project comes under 5 star branded residences which is managed by The Leela Group. You will get all the services like housekeeping, concierge,laundry, Valley, room service and Spa service by the leela group only. Here you will get 4m floor to floor height that adds volume to the space and make these apartments India's first apartments with this facility. Here, the country's largest recreational club is constructed with a helicopter and an observatory area on top to offer a complete 360 degree view of Delhi.
 Signature Global Grand Iva
This project has bagged an affordable housing project of the year award recently. Signature Global Grand Iva is sprawled over 9 acres and has 1472 units of 1 and 2bhk sizes built in it. It is located in sector 103 of Gurgaon and offers apartments with the sizes ranging from 351 to 716 sq.ft. the project offers the highest order of connectivity as it is located near Dwarka Expressway. You can reach the Dwarka Expressway within 10 minutes drive.
 Whiteland Urban Cubes 71
The maiden commercial project is located in sector 71 near golf course extension road and offers shop cum office space with a total of 34 buildings facing the main road.
Some of the leading brands have signed it including Beer cafe, striker, house cafe & bar,and Nostslgia etc. The project is expected to get completed by 2022. The start of the art features of the project includes Centralized power backup services, RO water system, and LEED certified platinum rating. Here you will also find integrated service corridors for pedestrian, Central piazza, amphitheatre, and horizontal leasing provision.
 Gulshan Group's Gulshan Dynasty in sector 144, Noida
The luxurious residential project gained attention of elite class buyer's in 2021 for so many valid reasons. This under construction project will house 204 units built in 3 towers. Here you will find 76% green, open, and construction free area wherein you will find dense green medicinal trees. In this project, there will be just 2 flats built on each floor and 2 operational lifts to further elevate your living experience. Gulshan Dynasty also offers one of a kind farm to fresh experience that lets you enjoy healthy vegetables grown organically inside the premises.
  Migsun Group
This project registered a record sale worth 421 crore in 72hours after the big announcement made that the developer has acquired Royal golf link City projects in Greater Noida. The developer has sold 138 villas and retail shops in record time. Migsun Group is soon going to come up with 103 acre gated township which will be developed with Rs. 250 crore investment. This project is sprawled over an area of 2.5 lakh sq.ft.
 ABA Group's Cleo County
Cleo County sector 121 Noida offers 2640 affordable residential apartments spread across 24 towers. Some of the leading amenities of this project includes mist garden, open Jacuzzi, golf and cricket net pitch. It is based on Egyptian theme and offers an island court, creating an island oasis with lavishly made sparkling water bodies.