Big Billion Property Sale Redefine a Whole New Real-Estate Buying Experience, Smartworld Developers got Rs. 1023 cr. Sale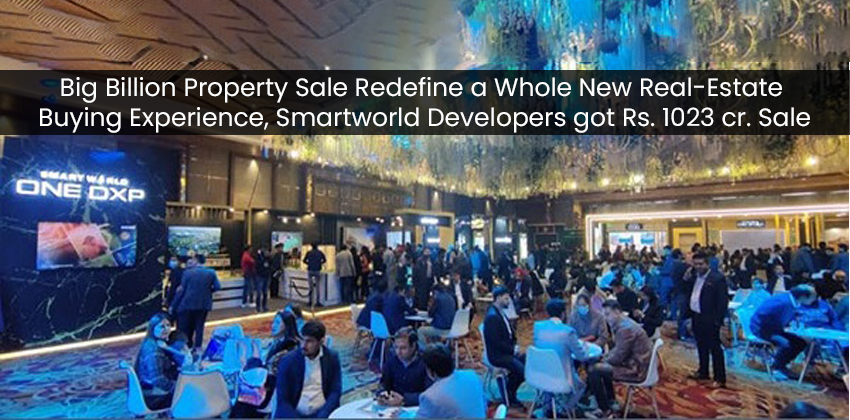 The biggest days of Real Estate in Delhi NCR/ India, January 21st-24th, Big Billion Property Sale has transformed the way people buy property. The Special 26 sales come with various attractive offers like paying 26 percent to own a property. 26 percent discount on booking amount, 26 months of free maintenance plus confirmed gifts with every booking, and a chance to win a luxury car.
Vivek Singhal, CEO of Smartworld Developers said the real estate business should think differently by offering compelling propositions, great products, the pulse of the customers on what they want, and the design of giving the customers a non-traditional real-estate format. Property should be brought by keeping the family in mind, and Smartworld wants the customer to feel "the difference" from day one. 30 percent of sales came from existing buyers.
Smartworld- the new age developer has created a massive expo platform by organizing this massive event.  Last year, Smartworld launched its two projects that were massive hits where more than 95 percent sold in just 6 months of its launch. Smarworld has launched its new project called Smartworld One DXP, the first-ever address to Dwarka Expressway at the Big Billion Property Sale. In exactly 3 months of its launch, Smartworld One DXP 2.5 BHK units were sold out.
The president of sales and marketing of Smartworld Developers, Ashish Jerath commented, the Big Billion Property Sale is an opportunity that has proven to be the most innovative concept. The footfall and sales have been increasing, whereas, rs 10. 23 cr have been clocked. The channel partners have played a huge role by bringing the customers. There were tons of direct customers who came to us directly.
Vice Chairman of Anarock Group, Santhosh Kumar commented, the unique and interesting events aim to enable investors and clients to buy property at a lower-than-market price for higher ROI.
There were tons of financial partners like HDFC, ICICI, Canara Bank, Kotak Mahindra, Axis, IDFC, and Bank of Maharashtra.
Bhaunu Bhandari from HDFC Limited said, supporting to buy dream homes buyers is our main motive. The bank has released special schemes to make it a success and we can never see such a massive success with the highest footfall. The concept was very unique and the event was fabulous.
Overall, the 4 days property sale has everything that a customer needs from various options of property, and variable ticket size options, to a mix of ready-to-move-in to under-construction projects. Buyers were thrilled to get so many options with some special bank offers made sure on-spot approvals and special offers resulted in a seamless buying of property in one go.
The 4-day extravagance event has people from all over Delhi NCR buying property from rs 1 cr* going up to 4.5 cr*. A home buyer and CEO with an MNC said that the deals were fantastic. I was looking for a property in the heart of Gurgaon, Dwarka Expressway, and was doing my own research on it. And then I came across the Big Billion Property Sale. I haven't seen anything like this ever before when people buy property in such huge numbers. I got an amazing deal and I also got iPhone as a conformed gift which made my wife happier.
CFO with Consulting firm who got a 4.5 BHK hone at property sale said, my parents are in Kolkata and after researching for 2 years I got interested in Smartworld One DXP. I went for the sale on Day 1 and Day 2 where I made the booking,
There was a record number of 400+ Channel Partners who were a part of this property extravaganza where some of them reached as much over rs 100 cr sales in the last 4 days. Investor Clinic, a channel partner who has clocked as many as 100 sales said the platform was fantastic. The experience and hospitality were truly amazing. The customers like all the special offers and the hospitality as well. It felt that 4 days event was Akshay Tritiya for 4 days.
Samrtworld Developers is all set to transform the real estate scenario through its vision of building world-class realty assets in India. The developers aim to set new benchmarks in construction, operation, customer services, and unmatched delivery schedules by utilizing the most advanced and smart technologies.
Smartworld Developers was incorporated in 2021 and is a professionally driven company that is acclaimed for implementing corporate governance at all levels. The company disrupted the real estate market of Delhi NCR with its inaugural projects that offered low-rise floors with high-rise amenities.  Smartworld Orchard and Smarthworld Gems are located at premium locations in Gurugram with 5, 5000+ satisfied customers. The developers have exceeded INR 5,500 crore in sales it has 10,000 crore worth of assets under management and it has 2.5 cr square feet development potential in the next five years.