Auction of 150 Acres land in Gurgaon by Haryana Government for Phase 1 of Global City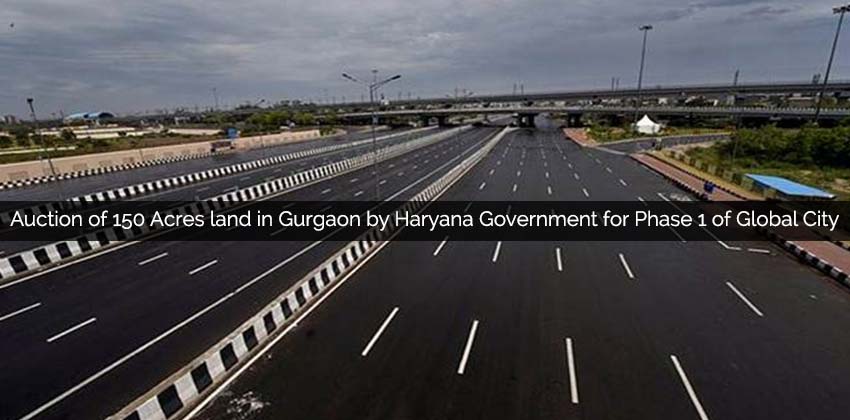 The global city will transform the infrastructure of Gurgaon and take it to the next level. Haryana Government has recently put up an auction for the 150 acres of land in Gurgaon for the development of Global City. A total budget of Rs 4800 crore is allotted for the investment and development of the project global city. Vikas Gupta, the managing director of Haryana State Industrial and Infrastructure Development Corporation (HSIIDC), has explained the vision for this global city to the Haryana Chief Minister Manohar Lal Khattar, and a detailed meeting with industry leaders, consultants, and developers about the project was kept. A total of 1003 acres of land on Dwarka Expressway is dedicated to the development of Global city in Gurgaon.
Many government officials, including the chief minister of Haryana, are looking forward to this project as it will open many opportunities and set an example for the other metropolitan cities. The first phase of the project will start in July. This phase will include construction work on infrastructure, connectivity through road and metro, construction of helipad, etc. A special meeting has been arranged with stakeholders of Dubai who have experience in building such futuristic cities. Mr. Gupta has further stated, "The upcoming city will be near to a multi-modal logistic part, and a special focus will be on sustainability and environment friendly measure. The land available will be of mixed-use and there will be both commercial and residential development to follow walk to work concept."
Gurugram has become a hub for attracting the investors from all over the world. The project Global city alone is attracting such influx of investors that was beyond the expectations of the government. This project is set to be an exemplary step towards the vision of creating Gurugram as one IT and business hub of the country with maximum investment. This bold vision of the properly planned city in the area of 1000+ acres will create a futuristic and iconic global city where the complete potential of Gurgaon city will be utilized. This project will become a major source of investment and boost for not just real estate but several other sectors like healthcare and tourism.