Why are golf course communities gaining popularity in India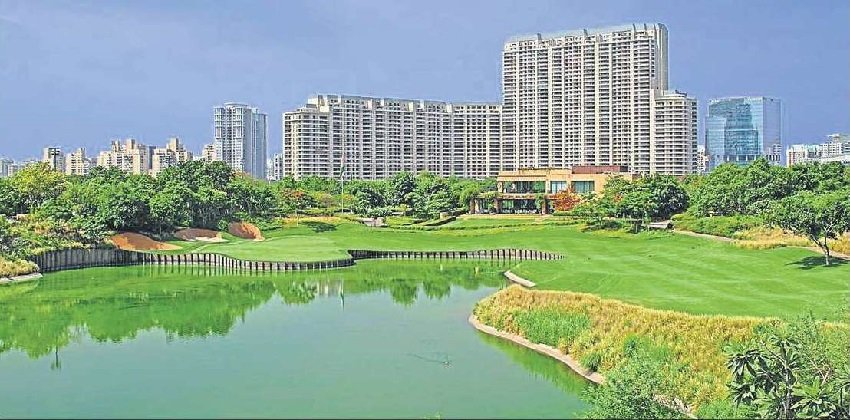 Those staying on a golf course may have little to do with the game as this type of housing is coveted for many other reasons.
Did you know that globally only 15% of the people staying on a golf course, play golf while the rest 85% do not. Yet they are willing to pay a minimum 50% premium to stay in a golf community.
There is a popular saying that while Indians "live" to play cricket, they "love" to stay on golf courses. Those staying on a golf course, however, may have little to do with the game–not necessarily the tribe itching to be chipping at the golf greens or sinking a 40-foot putt. A golf community is coveted for various other reasons. According to Ashwani Khurana, President Karma Lakelands – "One acre of golf course produces more oxygen than one acre of rainforest. Imagine two gated communities with all amenities being equal, the one with golf course will have the values go up at least by 50%."
Karma Lakelands, the well-known golf community at Manesar has large sized villas of size 1,000-4,000 sq yards with built up area 5,800-6,800 sq ft. These villas are licensed for permanent use, at a price ranging from Rs 10-20 Crores. What's coming up next are apartments being built in association with Sobha Ltd, within the Karma complex- 600 units of 30 storey with approximate built up area ranging from 2,200-3,000 sq ft, to be constructed over an area of 51 acres. In times, when people use air purifiers, a golf home is sought after because one is surrounded by an oasis of green- tall trees and well-manicured grass that substantially bring down the AQI levels.
According to legendary golfer and architect Gary Player, a former Grand Slam winner, who has designed many a golf courses globally including DLF golf course in Gurugram, "The golf course creates a "green belt" around the community adding value to their homes. When the residents look out over the golf course, it seems more like a park than a golf course."
A golf course is lapped up by the market, like nothing else. Especially so if the product is good and packaged well with services, lifestyle amenities, branding and marketing. Take a look at DLF Golf Course. In the mid-90s, KP Singh went against popular opinion and decided to build a premier golf course in the then semi-rural Gurgaon. He started with DLF Aralias, 254 units of size ranging from 5,800-10,000 sq ft, launched in November 2002 at a price of Rs 1800 / per sq ft. People started moving in around October 2007 and today the resale market value is Rs 26,000/sq ft. 2005 saw the launch of Magnolias (sold only as bareshell apartments while the finished ones were only some individual ones done as exceptions on special request) at Rs 4,500 /sq ft then; these were 589 units of size 6,300 sq ft to 10,400 sq ft, that rose to Rs 17-19 crores, when possession was given in 2009. Residents started moving in Jan 2010 and today the current capital value is Rs 28,500/sq ft. In 2014, Camellias was launched with apartment sizes of 7,400-11,000 sq ft (and some limited edition of penthouses) at Rs 22,000/sq ft. In 2018, fit outs started and 2019, the market value is Rs 37,500 /sq ft. People are expected to move in here by June 2020. The Crest which is a bridge to luxury project, launched in 2014 has done considerably well. The unit size is 2,500-4,000 sq ft at the rate of Rs 14,500 /sq ft and in April 2018, the value is Rs 20,700 /sq ft.
According to Aakash Ohri – Senior Executive Director at DLF Home Developers Ltd, "Super luxury living is not limited only to construction of physical buildings. It is actually a consequence of several other factors. One is fabulous clubs that we have built in the entire ecosystem. Condo clubs, access and views of the DLF golf course, trees, birds and proximity to the Aravalli range and the services are paramount." He shares the case of Camellias which has been selling steadily against all the otherwise suppressed sentiment in luxury real estate segment- "It has defied all odds, and has continued to appreciate in capital terms since launch."
More than the golf home, it's the golf community and golf lifestyle that people die for. Many of these golf gated communities come with automatic membership to the golf club, which are the heartbeat of the community and residents can access resort like amenities such as spas, fitness centers, private theatre, fine dining, concierge. These clubs often play host to literary events, cultural curations and premium sports.
For instance Karma Lakelands recently hosted a vintage car show where top industrialists and India's royalty participated and displayed their cars. Says Ashwini Khurana, "A golf course provides the perfect backdrop for display of the vintage car. Apart from beautiful landscape, the class of people who appreciate the two are similar." Likewise, DLF Golf and Country Club recently hosted conversations with bestselling author Elizabeth Gilbert and chess grandmaster Viswanathan Anand, as part of 'The Camellias Word' series.
Services are another thing which are of prime importance and golf home developers are often seen hiring senior executives from hospitality majors. Says Akash Ohri, "We have in Camillia, a facility called the F&B (food and beverages) connect. Our F&B manager who is also a hotelier is a phone call away and you can just tell him whether you want a south coastal menu or Rajasthani thali food or South East Asian and they will not just make your food but serve it cutlery, crockery and you don't have to lift a spoon from your home- everything is taken care of. If you have to organize a party, we make sure that you enjoy as much as your guests."
What's next at DLF 5? Another edition of Crest 2, 3 is on the anvil in next few years. Ohri shares that given consumer demand and "appreciation of our super/luxury projects, new projects in these segments will continue to come up in DLF 5, turning it into the Beverly Hills of India."
Maintaining a golf community is a lot of hard work. According to Anubhav Jain, Director Silverglades, "It requires specialized manpower and machinery and tools to maintain the golf course greens and features such as waterbodies and sand bunkers." Jain's nine hole golf resort at Manesar, Tarudhan Valley is a gated golf community with villas ranging from size 1,000 sq ft studios to 3,000 sq ft 3 BHK villas all facing the golf course and many have lake views as well. Resale value is between Rs 2-2.5Cr per villa and about Rs 60-70 lakhs per apartment.
Who has designed your golf course also matters in golf gated community. Developers often tout these designer associations such as the 9-hole Arnold Palmer course or the 18-hole Gary Player course, or the Phil Ryan course at Karma Lakelands and Graham Cooke Tarudhan Valley 9-hole golf course. And they have their unique signature style. According to professional golfer Gary Player, what is the one thing he keeps in mind while designing a golf course, "It is PLAYABILITY. Who will play the course week in and week out. Will it be interesting and a test to both the amateur and professional?" His courses are different from the rest due to many reasons and in his own words – "Firstly, the incredible rock formations are unique and the landscaping spectacular. The most differing factor though is the bunkering. The geo-textile sod layering creates the look of a bear but actually plays like a puppy. Most of the steep, sheer faces are not in play at all."
Even in the global market, the golf homes are pursued. Take the case of Dubai where there are many golf communities such as Arabian Ranches, Jumeirah Golf Estates, Victory Heights, Emirates Hills, and the newly finished Dubai Hills Community.
According to Michaela Muller, Luxury Sales Specialist at Luxhabitat, "Most golf course communities have 4 bedroom villas to 7 bedroom mansions, making them very family-friendly communities, in a price range anywhere from the AED 5 million mark (Rs 9.9 crores) for a villa on the Arabian Ranches Golf Course to AED 18 million (Rs 35.7 crores) for a 7 bed mansion on the Dubai Hills Golf Course." Muller says that golf homes will always be in demand and these are well loved not just by golfers; they also offer a healthy lifestyle and family-friendly facilities such as a beautiful Clubhouse, cafes, restaurants, gyms, swimming pools, tennis courts, etc."
Maintenance charges for golf homes can range from Rs 4.50-5 /sq ft in most golf communities. Most developers charge an interest free maintenance deposit of a few lakhs per home that they pay when they buy the unit. With the interest income generated by this corpus, developers are able to subsidize the monthly expense. But it is typically in the range of Rs 20,000 plus per month.
Ecology is a big thing at golf communities. "Our core religion is respecting creator's creation – responsible practices are a must," says Karma's Khurana. No plastic and only glass bottles, recycling of water, treating sewerage all are tenets they follow at Karma. "Luxury is nothing is it's not sustainable," says Akash Ohri who adds that the golf course is recognized as much for its luxury as for its sustainable environmental practices such as tree transplantation, water cycling, sewage treatment– serving as a green belt in the otherwise arid region.
Source : HT