Top 5 M3M Commercial Projects in Gurgaon to Multiply Returns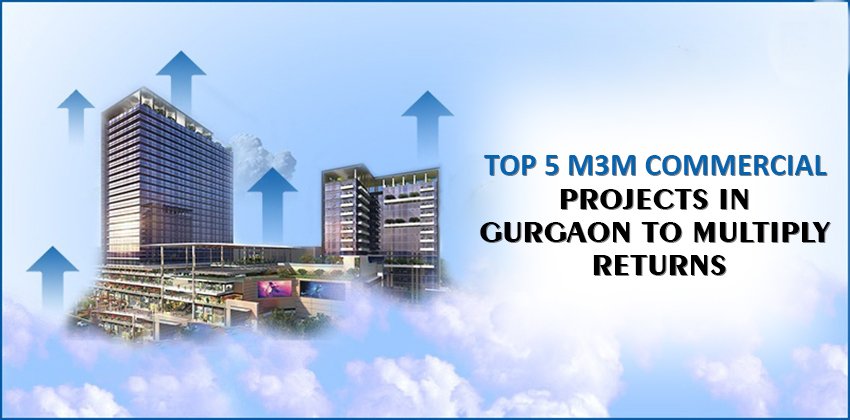 Today, India is rolling out red carpet for entrepreneurs, start-up companies, and commercial investors owing to which the demand for commercial space has increased to a great extent. So, if you are looking for stunning commercial building or office space to boost your business earnings to next level, you must book your commercial space at M3M new upcoming commercial property in Gurgaon.
M3M Commercial Project in Gurgaon is strategically built on best locations of Gurgaon that make for profitable investment options in commercial property.  M3M is a Gurgaon based real estate developer that is known for building ultra modern elite class commercial and residential properties in Delhi NCR. It is touted as India's no. 2 and North India's No. 1 real estate developer with the reputation of building luxurious and ultra modern buildings that showcase unique spirit of changing India. The group has delivered about 1.5 crore sqft of projects till date wherein 2.5 crore sqft area is still under the development phase.
M3M Gurgaon has total 28 projects out of which there are 15 residential and 13 commercial offerings. M3M commercial project in Delhi NCR include M3m Skylofts, M3M My Den, M3M Prive 73, M3M Broadway, M3M 65th Avenue, M3M corner walk, M3M Cosmopolitan, M3M IFC, M3M one key resiments, M3M Tee Point, M3M Urbana, M3M Urbana Business Park, M3M Urbana Premium.
M3M 65th Avenue
M3M 65th Avenue offers eclectic mix of plush high street retail stores and residential offerings in sector 65 Gurgaon. It is meticulously designed NCR's largest high street retail market spread over14.41 acres of land. The commercial has catchment of over 15000+ High net worth individual families which indicates business profitability for retail space owners. The commercial development has dedicated space for anchor stores, multiplex and F&B section. Dazzling pubs, exquisite dining avenues, 8 screen PVR multiplex, and theme based water bodies are some of the special highlights of the project.  
M3M Broadway
M3M Broadway offers iconic high street retail commercial space (Two side open site) spread over 8 acres of land at highly promising sector 71 of Gurgaon. You will find space for retail shops, showrooms, food courts, etc. 9 meters high double height shops are major attraction of M3M Broadway. Designed by Bentel associates international, M3M Broadway is designed to match international standards of a commercial. It has high speed elevators, escalators, landscaped areas, power backup, CCTV surveillance, Gymnasium, fire fighting system, Gaming zone, pedestrian lobbies, ample car parking, magnificent water bodies, etc.
M3M Corner walk
M3M Corner walk sector 74 Gurgaon is ideal destination for those looking high end retail shops, office spaces, F&B , and residential towers. This mixed use property offers connectivity of highest order. If you are residing in Delhi NCR, than it offers convenient reach to Delhi, Gurgaon and Faridabad. It is an Iconic high street commercial with large frontage and excellent visibility. The commercial offers flawless connectivity through high speed elevators, escalators, and sky bridges. Ample parking space, 100% power backup, vibrant landscaping, open green spaces, open-to-sky-courtyards are some of the major attractions of M3M corner walk sector 74 Gurgaon.
M3M IFC
M3M IFC, known as International Financial Center offers opulent retail and modern office spaces in sector 66 Gurgaon. The commercial project is sprawled over 4.6 acres of land out of which 1.5 lac sq.ft space are reserved for retail. M3M New Commercial property in Gurgaon The building is designed by UK based award winning architect chapman Taylor that has two towers with 40 floors and 10 floors respectively. The office space is built on 8.5 lacs sq.ft area and has seating capacity of accommodating 10,000 employees.
M3M Prive 73
M3M Prive 73 offers perfect blend of high street retail, office space and F&B spaces in sector 73 near southern peripheral road Gurgaon. The 5 level stacked structure of building makes it demanding as it ensures maximum visibility. The commercial offering is lined with fascinating glass frontage of double height stores which makes M3M Prive a head turner development for sure.