Everything You Need to Know About M3M Port Your Property Scheme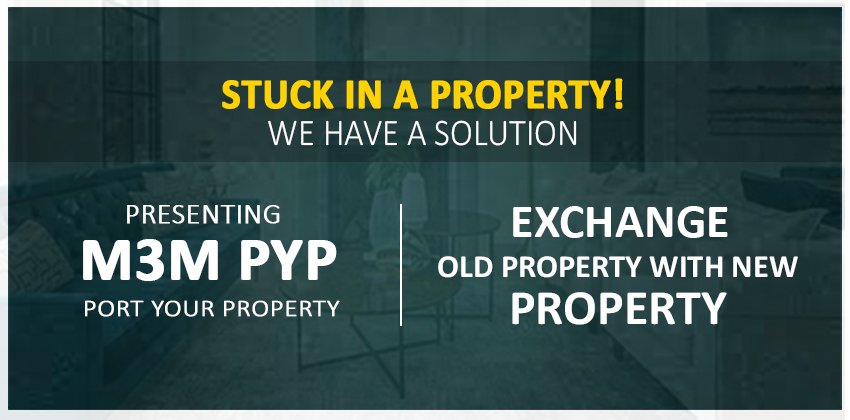 M3M Port Your Property (PYP)
India boasts of leading real estate developers that have changed the shape of real estate industry in the entire world. Today, metro cities like Mumbai, Pune, Delhi, Gurgaon, Noida have seen some robust realty masterpieces built by leading real developers that speak about exclusivity, comfort and luxury. One such highly esteemed real estate developer is M3M India. In less than a decade M3M India has emerged as India's No. 2 real estate developer that keeps class, quality and innovation at the core of its vision. The group is known for setting benchmarks for real estate developers each time with their new residential and commercial offerings. The group has been enjoying a great boost in sales over the years and therefore earned reputation for itself as the one of the top builders in the country.
M3M is often seen floating many lucrative offers and schemes that are in best interest of people. Currently they are running M3M Property Exchange Scheme. If your investment is stuck in any Delhi/ Ncr's property which you are regretting buying, then M3M has a solution for you. They are offering once in a life time opportunity of Exchange your property offer in Gurgaon wherein you can exchange your stuck property with their Commercial & Residential property located on the most premium location of Gurugram. Here's a sneak peek into M3M PYP scheme:
M3M Port your property scheme is meant for only those customers who want to upgrade or exchange their current properties with any of the M3M projects against any of their Delhi/NCR based property.
In order to get eligible for the availing the benefit of the M3M Porty your property scheme, the applicant need to invest 2.5 times of the disputed amount. This means investment shall be 2.5 times of the disputed amount. For instance, if the dispute amount is 20 lakhs then the minimum price to be bought from m3m under the scheme shall be Rs 50 Lakhs.
You need to pay 50% of the value of the property with m3m upfront. To elaborate, if the price of the property is Rs 72 Lakhs then you have to make upfront payment of Rs 40 Lakhs. Also, 50% of remaining amount i.e. Rs 32 Lakhs less the disputed property amount of Rs 35 Lakhs, ie. Rs 15 Lakhs at the time of possession.
The application amount shall be 10% along with duplicate papers of the property.
The payment plan under M3M Property exchange scheme shall be 50:50.
There will be no assured rental for disputed amount. The assured rental will be given on the payment made upfront to M3M ie. 50% @12% P.A.
You need to deposit papers of the disputed property at M3M at the time of booking confirmation.
M3M Commercial Projects
M3M Corner Walk
Now Or never offer
10% return on rental properties 
M3M Urbana Premium
Office Assured return 10.5% till possession.
Lease guarantee ₹ 75/Sqft post possession.
M3M Prive 73
A grand international retail destination.
Delightful mix of retail and F&B
M3M 65th Avenue
Office Assured return 10.5% till possession.
Lease guarantee ₹ 75/Sqft post possession.
M3M Residential Projects
M3M Latitude
Highrise with Mpdern Design
Sector 65, Golf Course Extn Road, Gurgaon
M3M Skywalk
2 & 3 BHK Apartments
Sector 74, Southern Pheriphery Road, Gurgaon
M3M Heights
2 & 3 BHK Apartments
Sector 65, Golf Course Extn road, Gurgaon
M3M Golfestate
Golf Apartments, Duplex & Triplex
Sector 65, Golf Course Extn Road, Gurgaon
M3M The Marina
2 & 3 BHK Apartments
Sector 68, Sohna Road, Gurgaon
M3M Escala
2 & 3 BHK Apartments
Sector 70A, Southern Periphery Road, Gurgaon