The price of Housing in the Delhi NCR area jump by 59% in one year, Check How Much Property Price Has Risen In Your City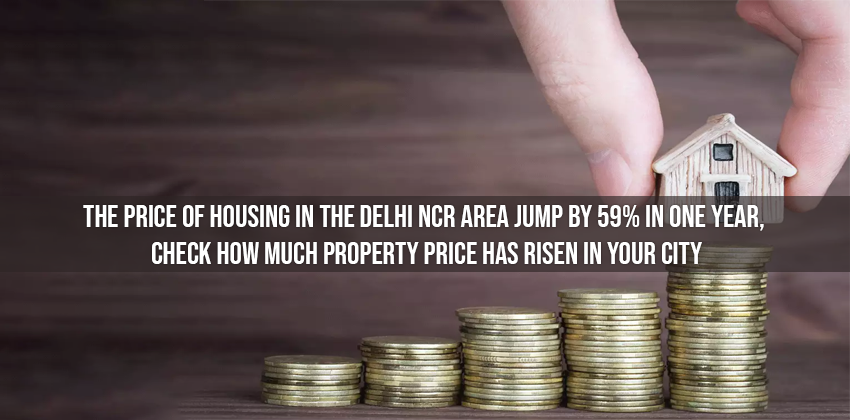 The real estate sector has not only been revived but it's getting hot in many parts of India. The housing prices across the top eight cities have increased by 8 percent year-on-year amid "strong housing demand and consistent quality launches by top developers", according to the report released by CREDAI, Colliers, and Liases Foras.
Moreover, there is a price fluctuation in real estate across cities. Some cities also saw an exceptional price increase while many others registered a below-average in price. This housing price in the Delhi-National Capital Region (Delhi NCR) increased by 16 percent year-on-year, according to the reports. Moreover, Bengaluru has noticed an increase of 14 percent in housing prices year-on-year. 
Residential real estate in India has bounced back post the pandemic and continues to its strong momentum since last year. It was also aided by the increased preference for home ownership, relative affordability, and quality supply. The sector also remained resilient, offsetting the challenges posed by higher interest rates amidst global headwinds said by Managing director of Occupier Services at Colliers India. 
The housing price in Delhi NCR has increased steadily in the last 11 quarters. The housing prices have increased by 59 percent in the Dwarka Expressway area. This is mainly led by the opening of the central peripheral road and the loop connecting Dwarka Expressway with NH-8. The Golf-Course Road in Gurugram has seen a price increase of 42 percent year-on-year. The revived prices in Golf Course /Begin this month of August with a whole new perspective for owning your dream property. With this shifting market, it's always advisable to set some expectations. Here are a few things to keep in mind while looking for your dream house. 
The housing price in Hyderabad surged by 13 percent year-on-year during Q1 2023, which is followed by Pune and Ahmedabad with 11 percent, the report said. Housing prices in the Mumbai Metropolitan Region (MMR) largely remained stable, during Q1 2023. Micro-markets such as Panvel witnessed an increase of 9 percent year-on-year increase, it said. 
The financial year 2023 witnessed the highest-ever new launches and sales across major Indian cities in India. These trends are most likely to continue the sale and sup[ply will likely grow, and sales and supply will likely to grow and the price will rise is going to be moderate, commented Pankaj Kapoor, Managing Director, Liases Foras. 
The unsold inventory has risen 12 percent year-on-year across the eight top cities in India. Moreover, the unsold inventory levels in Hyderabad went up by 38 percent year-on-year. The highest among the top eight cities. However, MMR still continued to account for the maximum share in unsold inventory at 37 percent, followed by Pune at 13 percent. 
Despite a 250 basis point increase in the RBI's repo rate since May 2022, the residential sector in India remained resilient through 2022 and in Q1 2023. The resultant increase in home loan interest rates did not defer demand. Commented Vimal Nadar, Senior Director and Head of Research at Colliers India.