Omaxe Chowk, Delhi 6's popular chandni chowk market in new shape and look to set benchmark across India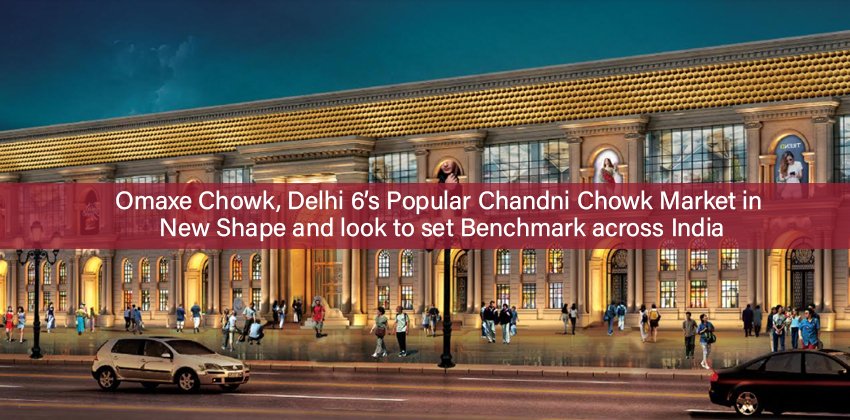 Indian markets are acknowledged for busy and congested lanes with clothing, house wares and hardware shops, restaurants, snack stalls, jewellery shops, books, furnishings, utensil shops, electrical shops and what not. Chandni chowk is one such markets of its time that has been around for more than three centuries and was built by Mughal emperor Shah Jahan.
Chandni chowk is dotted with kuchas, havelis and gallis that sell anything and everything you would need. Some of the prominent shopping markets in Chandni chowk include Nai Sarak, Dariba Kalan, Khari Baoli,kinari Bazar,Katra Neel,Bhagirath Palace,Moti Bazar etc. All these offerings of chandni chowk are now being served on a modern platter known as Omaxe Chowk. Omaxe chandni chowk in Delhi has been remodelled to match with the rapid pace of urban development and upgrade amenities for commuters' experience. Keeping the dignity and reliability of Omaxe real estate projects intact, Omaxe Chandni chowk in Delhi is much alike today's modern and world class commercial property in Gurgaon.
The prime motive of building Omaxe chandni chowk in Delhi is to avoid inconveniences such as traffic snarls, pollution, congestion and much more. This redevelopment will reaffirm the historical importance of the Delhi's oldest and busiest market, Chandni chowk.  
Organized retail always has an edge over its counterpart due to health, hygiene and wellness issues. The demand for organised retail has gone up with economic revival. As stated by Anarock and retailers association of India, the average bill value for essential items has raised up to 1.5 times from Rs 650 per basket early March to over Rs 900 per basket today. Chandni chowk undeniably enjoys highest order of connectivity to vital landmarks including Red fort, New Delhi Railway station, and chandni chowk metro station. This is huge market which witnesses influx of 5-6 lakh tourists daily. Omaxe Chandni Chowk in Delhi is one of the leading Omaxe Real Estate Projects that will give real boost to commercial property market in near future.
Omaxe chowk is touted as facelift to chandni chowk which is executed by Omaxe Heritage Pvt. Ltd.  in collaboration with North Delhi Municipal Corporation. This real estate masterpiece will herald the modern look of chandni chowk without forgetting its architectural and historical significance. Omaxe chandni chowk in New Delhi redevelopment trajectory would be in lines similar to Bhendi Bazaar, Mumbai, Atta Market, Noida, redevelopment of Kathputli colony by Raheja developers and Merchand Market in New Delhi. These remodelled markets will not only help avoid inconveniences to the consumers but will boost the aesthetic appeal of the region, push real estate prices, boost tourism, and boost investment prospects.
Mr. Mohit, CEO of Omaxe Chowk said, "The emerging trend of redevelopment of old Indian markets will catapult the share of organized retail from the current 15-18% as shopper's preferences are evolving and moving towards safer, secure and hygiene retail spaces thereby prompting businesses and retailers to expand or shift their business to newer and modern spaces in order to cater to this demand and carve an ever lasting legacy of their brand. Urban rejuvenation is gaining currency and trend of commercial redevelopments will form the cornerstone of renaissance in real estate".
Omaxe chowk spans across 4.5 acres land which amalgamates Indian, Mughal and British architecture, thus keeping the historical significance of Chandni chowk intact. It is a multi level parking cum commercial project which has parking space for 2100+cars. Omaxe Chowk is luxury commercial project that offers commercial shops, retail space, food court, and dinning spaces laced with ultra modern amenities including fire and alarm system, multi level parking, fresh water availability 24×7, CCTV surveillance, elevators and lifts.