Oberoi Realty in Talks to Acquire 50-Acre Land in Gurgaon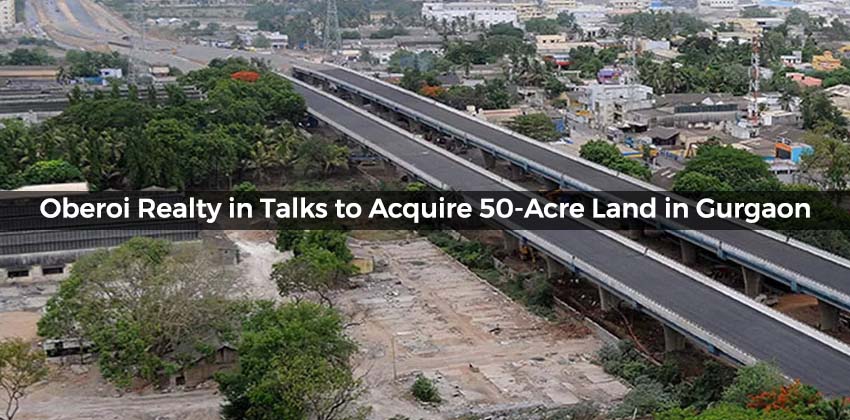 Oberoi Realty, firm based out of Mumbai, is in the process of purchasing a 50-acre land piece on Gurgaon's Golf Course Extension Road in order to enter the market in the National Capital Region. The worth of the land is estimated by experts to be around Rs 1,000 crore. Oberoi will need to assume the debt owed by the financial organisation that currently owns the land in order to gain control of it. A residential tower being built on the property by IREO Projects has some sold-out flats already. The developer had been contacted by several homebuyers who wanted to revive the project.
Based on the preliminary study the company undertook, it made the decision to proceed and indicate interest in this project. Although Oberoi Realty has a solid reputation as a developer in the Mumbai real estate market, the industry will be closely watching their foray into the NCR market. Industry experts claim that in a market like NCR, helping to restart a large project that had stopped can be an excellent reference for Oberoi Realty. Many major developers, according to them, are interested in this micro market. With major companies proposing a project in this micro market, Golf Course Road Extension is quickly developing into a new centre for residential and commercial developments.
There are also additional Category-A developers with projects nearby this locality, including M3M, Hines, and Mahindra etc. The rates have increased by 20–30% during the past few months in this region. Compared to Rs 294.7 crore a year ago and Rs 842.9 crore the quarter before, Oberoi has recorded consolidated revenue of Rs 934.81 crore for the April-June quarter of fiscal 2023. Real estate developers are finding it more and more challenging to purchase land in the NCR due to the involvement of lenders, escalating legal issues, and hefty fees imposed by various state authorities in the micro markets. In one of the recent land deals, the Gurgaon-based Elan Group recently paid Rs. 580 crore to Indiabulls Real Estate for 40 acres in Sector 106, Dwarka Expressway, Gurgaon.