Newly opened Sohna Elevated Road to boost the Gurugram's Real Estate market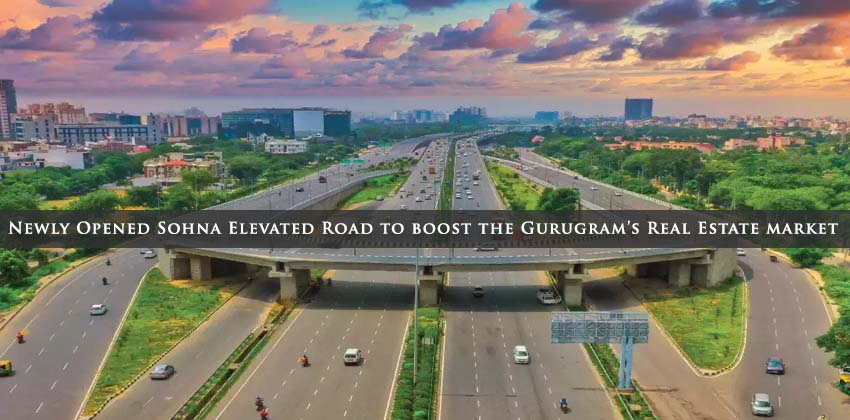 A section of the elevated road between Subhash Chowk and Badshahpur is now open to travelers. The construction is intended to shorten travel times and ease traffic congestion between Gurugram and Sohna. The elevated main route will also be connected to the Delhi-Vadodara expressway by an entry at Alipur. Sohna Road is a prime illustration of how Gurugram has consistently made a significant contribution to the expansion of the NCR real estate sector. Sohna, located among one of the country's oldest mountain ranges, home to lakes, hot springs, temples, and various historical buildings, has remained a well-liked tourist destination. South Gurugram is another name for the district of Sohna, which is located in Gurugram. Over the past two decades, Gurugram has experienced tremendous economic expansion, which has accelerated urbanization and boosted the real estate sector.
Many projects have over the time been relocated to the city's western and southern districts because of the rapid demand in rising areas like MG Road, Udyog Vihar, and Cyber City. Sohna Road, Golf Course Extension Road, and Southern Peripheral Road (SPR), which extends all the way to Sohna town, are just a few of the new areas that resulted from this. The working-age population of Gurugram is increasingly choosing to buy real estate in Sohna. This makes the area, a desirable site to invest in residential real estate due to its accessibility, excellent social infrastructure, and affordability. Sohna Road in Gurugram has thus become one of the most sought-after real estate sites.
The Sohna elevated road opening will provide increased and enhanced connection to significant regions and economic areas of Gurugram. It will shorten travel times and facilitate mobility to locations where getting there took a long time owing to traffic. After commuters are granted access to the 22-km Sohna elevated road, real estate development in the area will also increase. End users employed in places such as Golf Course, Golf Course extension road, and cyber hubs will increasingly opt for the Sohna region.  With Sohna's excellent connectivity to Gurugram's commercial centers, the real estate market would naturally grow.